Productos
Banana Pi M3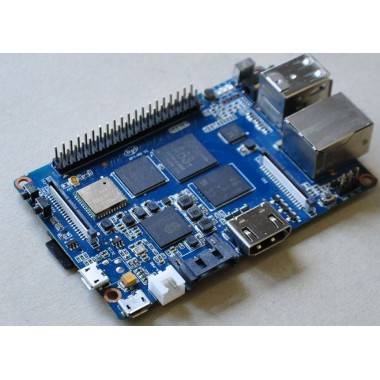 Banana Pi M3 es una super mini-computadora con un Octa core y una memoria RAM de 2 GB. Incluye entre otras cosas Wi-fi y Bluetooth on-board. Puede correr varios sistemas operativos como Android, Ubuntu, Lubuntu, Debian and Raspbian.
COD: SINOBPIM3
Peso: 0.045 Kg
Disponibilidad: En Stock

ARS 15007.00
El producto no está disponible para la venta en este momento
Características
What is Banana Pi M3?
Banana Pi M3 is a super charged single board computer with an Octa-core processor and 2GB of RAM. Along side the elite processing unit, it features Gigabit Ethernet, 2 USB, SATA, WiFi, Bluetooth, and HDMI connection. It can run on a variety of operating systems including Android, Lubuntu, Ubuntu, Debian, and Raspbian.
Being a brother of the power hungry M2, the M3 does not want to rest while his brother goes to acquire two more cores. The M3 secretly mastered the powerful art of Octa-core to best even the M2. Unlike his careless brother, the M3 did not lose his SATA port.
Banana Pi is an open platform device, it is for anyone who wants to play and build with developer technology instead of simply using consumer technology. Backed by our community, starting a project and building servers is fun and rewarding. We welcome all companies, DIYers, and tech loving people within our community! Together, we can make a difference, we can discover our passions, inspire others, and build a practical project.
Key Features
Octa-core 1.8GHz Powerful CPU.
2 GB LPDDR3 memory.
8 GB eMMC storage.
WiFi & Bluetooth onboard.
M3 Specifications
CPU A83T ARM Cortex-A7 octa-core,512 KB L1 cache 1 MB L2 cache
GPU PowerVR SGX544MP1· Comply with OpenGL ES 2.0, OpenCL 1.x, DX 9_3
Memory 2GB LPDDR3 (shared with GPU)
Storage Support MicroSD Card(up to 64GB)/SATA(up to 2TB USB-to-SATA; GL830)/eMMC(8GB onboard)
Onboard Network 10/100/1000Mbps ethernet (Realtek RTL8211E/D)
WiFi 802.11 b/g/n (AP6212)
Bluetooth BT4.0 (AP6212)
Video In Parallel 8-bit camera interface MIPI Camera serial Interface(CSI)
Video Out HDMI 1.4 DHCP 1.2 with resolutions from(640x640 to 1920x1080)
MIPI DSI for RAW LCD panels
Audio Out 3.5 mm Jack and HDMI
Audio In On board microphone
Power Source Micro USB, optional 5V DC port (center positive 1,6 x 4,4mm)
USB Ports 2x USB 2.0, USB OTG(Micro USB)
Buttons Reset button, Power button, U-boot button
GPIO 40 Pins: GPIO, UART, I2C bus, I2S bus, SPI bus, PWN, +3.3v, +5v, ground
LED Power LED(red), RJ45 LED(blue), user define LED(green)
OS Android and Linux etc.OS
Dimensions 92mm x 60mm
Weight 45g
Links: