Productos
Banana Pi M1+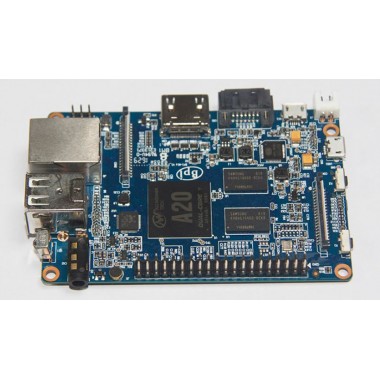 Banana Pi M1+ es una evolución de la super mini-computadora Banana Pi M1. La M1+ incluye Wifi on board, una memoria SDRAM de 1GB y un procesador Dual-Core de 1.0 GHz.
COD: SINOBPIM1P
Peso: 0.048 Kg
Disponibilidad: En Stock

ARS 8059.00
El producto no está disponible para la venta en este momento
Características
What is Banana Pi M1+?
Banana Pi upgrade is an open-source single-board computer that adds more connectivity to the classic board. It features the same high performance AllWinner dual-core SoC at 1GHz, 1GB of DDR3 SDRAM, Gigabit Ethernet, SATA, USB, and HDMI connections found in classic Banana Pi; but the Banana Pi M1+ features onboard WiFi g/b/n. The board supports all classic projects and even more because of the onboard WIFi chip. Like its sibling, it can run operating systems including Android, Lubuntu, Ubuntu, Debian, and Raspbian.
The Banana Pi M1+ is our upgraded M1 board. We feel like the onboard WiFi adds a lot more features to the board and makes it more convient for users to set up their linx desktop or router projects.
Banana Pi is an open platform device, it is for anyone who wants to play and build with developer technology instead of simply using consumer technology. Backed by our community, starting a project and building servers is fun and rewarding. With a Banana Pi, we want you to explore and experience the world of DIY projects and portable computing. We welcome all companies, DIYers, and tech loving people within our community! Together, we can make a difference, we can discover our passions, inspire others, and build a practical project.
Key Features
Dual-core 1.0GHz CPU.
1 GB DDR3 memeory.
Mali-400 MP2 with Open GL ES 2.0/1.1.
WiFi onbaord.
M1+ Specifications
CPU A20 ARM Cortex-A7™ Dual-core
GPU ARM Mali-400 MP2 with Open GL ES 2.0/1.1
Memory 1 GB DDR3 SDRAM
Storage Support SD Card(up to 64GB)/SATA(up to 2TB)
Onboard Network 10/100/1000 Ethernet RJ45
WiFi WiFi b/g/n
Video In CSI input for video cameras
Video Out HDMI,CVBS,LVDS/RGB
Audio Out 3.5 mm Jack and HDMI
Audio In On board microphone
Power Source Micro USB, optional 5V DC port (center positive 1,6 x 4,4mm)
USB Ports 2x USB 2.0
Buttons Reset: next to Micro USb
Power: next to reset
Boot(optional): behind HDMI connector
GPIO GPIO, UART, I2C Bus, SPI Bus with two chip select,
CAN bus, ADC, PWM, +3.3v, +5v, ground
LED Power key and RJ45
OS Android, Raspbian, Ubuntu, OpenSUSE, Debian, Bananian
Dimensions 92mm x 60mm
Weight 48g
Links: