Productos
Adjustable DC-DC Step Down Power Supply Module With LCD Display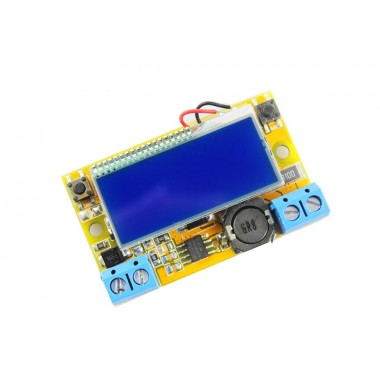 Convertidor DC Step Down que incluye Display LCD, el cual puede mostrar la corriente y la tensión. Tensión de entrada 5~23V, tensión de salida 0V~16.5V (ajustable).
COD: EPSC20518P
Peso: 0.018 Kg
Disponibilidad: En Stock

ARS 2025.00
El producto no está disponible para la venta en este momento
Características
Description
This is a DC-DC Step Down Power Supply Adjustable Module With LCD Display, the display using STN liquid crystal display screen, voltage and current can be displayed simultaneously, blue background and white character, wide angle and wide field of view. It start used button to adjust voltage, left button to reduced the voltage, the right button to increasing voltage, press button once can adjust 0.04V voltage, if you hold more than 1s, you can quickly adjust voltage. Calibration method: Under power off situation, Holdind left button and power the supply,when the display begin flashing, release left button, with multimeter measuring the output voltage, by press the left and right button ,adjust the multimeter measuring voltage near 5V, such as 5.00V ,4.98V or 5.02V is ok too,at this situation,please ignore the displaying on this item. After adjustment,please power off it and then power to it again, then the calibration is completed. Errors can be calibrated in 0.04V, if the error is greater, you can try to calibrate it again.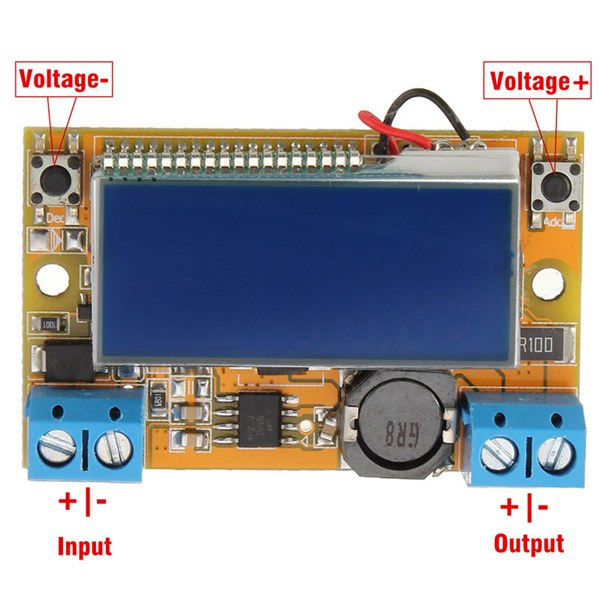 Features
Converter Type: DC-DC
Input Voltage: 5~23V (Best voltage 20V)
Output Voltage: 0V~16.5V (Continuously adjustable)
Peak Current: 3A
Mainboard Size: 50mm x 30mm x 12mm(LxWxH)
Display Module: STN LCD
LCD Size: 37.5mm x 17.0mm(LxW)
LCD Accuracy: 1%
Conversion Efficiency: 95%
Load Regulation S(I): <= 0.8%
Voltage Regulation S(U): <= 0.8%
Package list
Adjustable DC-DC Step Down Power Supply Module With LCD Display x 1