Productos
Non-Invasive AC Current Sensor 30A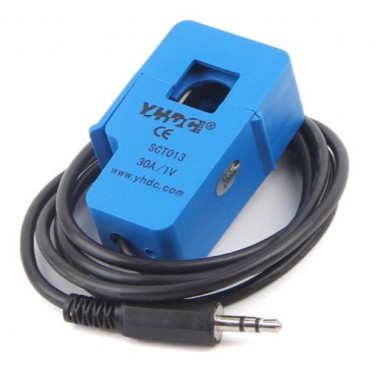 Sensor de corriente AC no invasivo de tipo transformador de intensidad, capaz de medir hasta 30A.
COD: TROSVC1008
Peso: 0.050 Kg
Disponibilidad: En Stock

ARS 2444.00
El producto no está disponible para la venta en este momento
Características
Description
This is non-invasive CT (Current Transformer) sensor, based on the magnetive transomfer working principle, which is hard to be explained by us but you can read a lot on this current transformer wiki page, or similar device "current clamp". If you are interesting on power energy measurement, power grid, or measuring any alive domestic appliance or your system, this is one thing fun to try.
Applications
Suitable for the current measuring
Monitoring and protection of AC motor
Lighting equipment
Air compressor
Specifications
Non-linearity: ±3%
Resistance Grade: Grade B
Work Temperature: -25°C ~ ﹢70°C
Dielectric Strength(between shell and output): 1000V AC/1min 5mA
Leading Wire in Length: 1m
Open Size: 13mm x 13mm
For 30A AC Version: sensing current: 0~30A AC; Output Mode: 0~1V
Links: