Productos
12-24V Step-down Buck 5V Module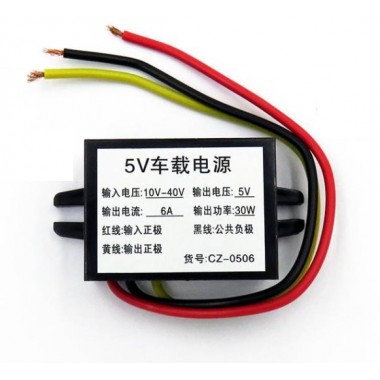 Fuente Step Down de entrada 12-24V y salida 5V. Potencia nominal 30W, corriente nominal 6A. Gabinete sellado.
COD: TROOPM1130
Peso: 0.100 Kg
Disponibilidad: En Stock

ARS 861.00
El producto no está disponible para la venta en este momento
Características
Product Description
Great for car devices, ready to use with case.
Features:
Fully sealed module, well protected
Output voltage 5V
Input voltage 10V-40V (for 12V to 5V, 24V to 5V)
Red line – input positive +
Yellow Line – Output positive +
Black line – common negative –
Rated continuous output current 6A, maxmium up to 8A, peak current at 10A
Synchronous rectification technology, the conversion rate of more than 96%, very low heat
Epoxy resin irrigation, waterproof, earthquake, moisture, dust, flame retardant
Short circuit protection, over-current protection, automatic recovery after troubleshooting
47MM * 34MM * 22MM size specifications, weighing about 70 grams
Specification:
Modular nature: Non-isolated buck module (BUCK)
Rectification: Synchronous rectification
Minimum differential voltage: 5V
Conversion efficiency: up to 96%
Output ripple: 50mV (MAX)
Operating temperature: industrial (-20 ℃ to +85 ℃) (ambient temperature of more than 40 degrees, please
reduce the power to use, or strengthen the heat)
Load regulation: ± 1%
Voltage regulation: ± 2%
Short circuit protection: reusable, self-healing.
Input Reverse Protection: None, if necessary, enter the series diode
Application:
Bus, electric car, LED, car navigation, car radio, walkie-talkie and monitoring system, the car, the car, the car, the car, the car, Wait.