Productos
Mini Thermal Receipt Printer, Serial 5V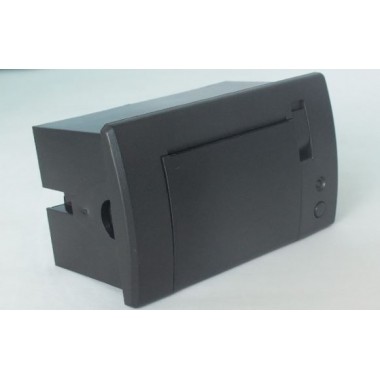 Impresora térmica (del tipo R1) que se puede conectar de 5 a 9V, posee interfaz TTL. Ideal para integrar a tus proyectos con microcontroladores
COD: TROIDO1005
Peso: 0.300 Kg
Disponibilidad: Sin Stock

ARS 7850.00
El producto no está disponible para la venta en este momento
Características
Product Description
Type:
Type-R1 supports well arduino R1 library, specially the bitmap
Type-R1 is 5p xh2.54
Features:
The thermal printers are also known as receipt printers, they're what you get when you go to the ATM or grocery store.
Thermal printer also require no ink for printing, easy for maintaining.
This is an embeddable item, with serial interfacing, ideally can work with MCU, now it is avaialble to be used in your embeddable project.
Easy install with installation holes, fix clip in a open panel.
Input power is 5-9V, logic on 3.3-5V.
Arduino library supports to print text, barcodes, bitmap image, QR code.
Applicaton: taxi meter, recorder, self-service equipment, ticket machines, medical equipment, electronic equipment, testing equipment.
Demo video avaialble.
Package includes:

Main thermal printer,
5P XH2.54 cable for type-R1
1x roll of 57.5mm thermal printing paper
Installation 2x clip, both side.
Specifications:
Embedded depth of 32/36 mm
Dimensions (W x D x H) 103 × 57 × 50 mm
Installation panel size 111 × 65 mm
Print type Thermal
Print speed 50 – 85 mm / sec
Resolution 8 points / mm, 384 points / line
Effective print width of 48 mm
Character character set ASCII code, GB2312-80 (Chinese)
Print font ANK: 5 × 7, Chinese: 12×24, 24 × 24
Paper specifications Paper type Thermal paper roll
The paper width is 57.5 ± 0.5 mm
Paper thickness 0.06 to 0.07 mm
Paper core diameter 13 mm (minimum)
Roll the largest diameter: 23 mm
Reliability Mean Time Between Failures (MCBF) 5 million rows
Interface TTL
Embedded depth of 32/36 mm
Power supply 5V-9V DC
Ambient operating temperature 5 ° C to 50 ° C
Operating humidity 10% ~ 80% 1
Storage temperature -20 ° C to 60 ° C
Storage humidity 10% ~ 90