Productos
Altera CPLD EPM240 Dev. Board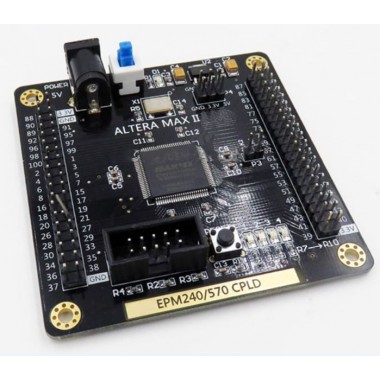 Placa de desarrollo para aprender a programar CPLD, Verilog y VHDL, basada en el EPM240T100CN.
COD: TRODODS040
Peso: 0.100 Kg
Disponibilidad: En Stock

ARS 1405.00
El producto no está disponible para la venta en este momento
Características
Description
More features about this CPLD IC please see on this page.
Features:
A very price-effective board for learning CPLD, verilog and VHDL language.
On Board Chip EPM240T100CN
Package include 3mm acrylic transparent cover, in order to against ESD short, self installation.
Black and ENIG board technique, machine soldering, very well quality
All the pins are lead out (2*20-2.54mm pitch) and marked, very easy to find and use.
50mhz main working crystal, backup crystal can be soldered on the back of the board to use.
Use AMS117-3v3 to supply the operational volt, use plenty of filter capacitors for filtering design.
On Board Resource:
Red status LED indicating power
Self-lock power switch
A system reset switch, can also be used as an input switch.
(Note some relevant genius software you will need to find by yourself)
Package includes:
Altera CPLD EPM240 board
Acrylic cover and screws