Productos
125Khz RFID Reader Module RDM6300 UART Output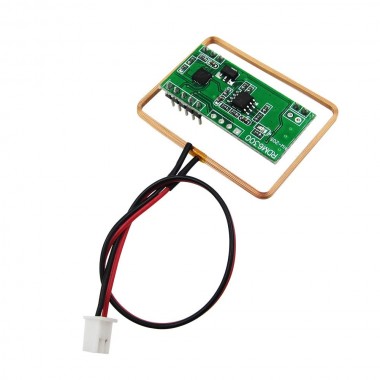 Módulo lector de tarjetas RFID de corto alcance. Soporta tarjetas de control de acceso de tipo estándar de 125KHz. Compatible con Arduino.
COD: HTHR0099
Peso: 0.020 Kg
Disponibilidad: En Stock

ARS 1752.00
El producto no está disponible para la venta en este momento
Características
RDM6300 125KHz cardreader mini-module is designed for reading code from 125KHz card compatible read-only tags and read/write card . It can be applied in office/home security, personal identification, access control, anti-forgery, interactive toy and production control systems etc.
Features:
Support external antenna.
Maximum effective distance up to 150mm.
Less than 100ms decoding time.
Uart interface.
Support EM4100 compatible read only or read/write tags.
Small outline design.
Color: Green + red.
Material: Plastic + metal.
Features: RFID reader supporting modules.
Specification: RDM630, RFID reader module.
Operating voltage: 5V.
Operating current: <50mA.
Frequency: 125KHz.
Baud Rate: 9600.
Interface Type: TTL level RS232 format.
Reception range: 20mm~50mm (depending on the antenna and the card).
RFID reader module, can read 125K EM4100 Series RFID card; The module is easy to use, Arduino motherboard serial connection energized when RFID card into the card reader range, the module through the UART directly to the card number sent to the Arduino; Then relay module is connected Arduino simple access control can be achieved.
The dedicated module RDM630 series of non-contact RF ID card, preclude the use of advanced RF receiver circuits and embedded microcontroller design, combined with efficient decoding algorithms, to complete the EM4100 compatible ID card data reception; Receiver sensitivity, high operating current, high stability.
Suitable for access control, time and attendance, charges, anti-theft, Patrol and other radio frequency identification applications.
Dimensions:
1.50 in x 0.71 in x 0.43 in (3.8 cm x 1.8 cm x 1.1 cm)