Productos
R308 fingerprint sensor module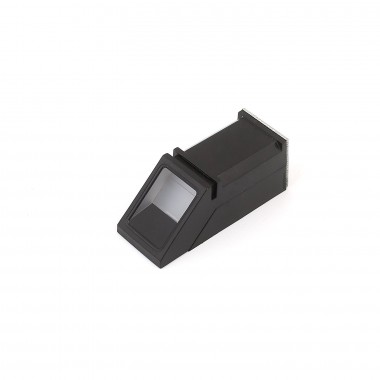 Módulo sensor de huellas con capacidad para almacenar hasta 500 huellas. Con este sensor es posible enrolar, identificar y borrar huellas, además de ser posible llevar a cabo operaciones relacionadas a la huella en cuestión (debajo de la descripción hay SDK, y librerías). Posee interfaz UART (niveles TTL), y se alimenta con 5v. Compatible con Arduino.
COD: GRR308
Peso: 0.010 Kg
Disponibilidad: En Stock

ARS 9885.00
El producto no está disponible para la venta en este momento
Características
Product description:
R308 is a separate fingerprint reader, used high speed special DSP as core parts, compatible different fingerprint sensor. It is an intelligent module which can freely get fingerprint, image processing, verified fingerprint, search and storage, and it can work normally without upper monitor's participatory management. Fingerprint processing includes two parts: fingerprint enrollment and fingerprint matching (the matching can be 1:1 or 1:N). Enrolling fingerprint, user needs to enter the finger 2-4 times for every one finger, process finger images with many times, store generate templates on module. When fingerprint matching, enroll and process verified fingerprint image And then matching with module (if match with appoint templates on the module, named fingerprint verification, For 1:1 matching method; if match with many templates on the module, named fingerprint search method also named 1:N) system will return the matching result, success or failure.
Main Functions:
1. Integrated image collecting and algorithm chip together, ALL-in-One.
2. Fingerprint module can conduct secondary development, can be embedded into a variety of end products.
3. Users can conduct secondary development, can be embedded into a variety of end products, such as: access control, attendance, safety deposit box, car door locks.
4. Low power consumption, low cost, small size, excellent performance.
5. Professional optical technology, precise module manufacturing technics.
6. Good image processing capabilities, can successfully capture image up to resolution 500 dpi.
7. A total of eight instruction, Convenient MCU development.
8. Finger detection signal output.

Specification:
Type: Optical
Interface: UART (TTL logical level 3,3 v).
RS232 communication baud rate: 57600 BPS (can not change).
Verification Speed: 0.3 sec.
Scanning Speed: 0.3 sec.
Character file size: 256 bytes.
Template size: 512 bytes.
Storage capacity: 500.
False Acceptance Rate (FAR): ≤0.0001%.
False Rejection Rate (FRR): ≤0.1%.
Resolution: 500 DPI.
Voltage: 4.2-6.0 VDC.
Working current:Typical ≤50 mA, Peak 120mA.
Matching Mode 1:1 and 1:N Baud rate (9600*N)bps, N=1~12 (default N=6)
Operating Envirement Temperature: -20 to 45 centigrages.