Productos
R301T fingerprint sensor module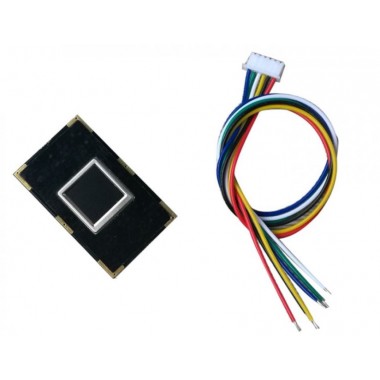 Módulo sensor de huellas digitales basado en el R301T, ideal para proyectos que requieran identificación biométrica.
COD: GRR301T
Peso: 0.100 Kg
Disponibilidad: En Stock

ARS 2814.00
El producto no está disponible para la venta en este momento
Características
Introduction
R301T which added fingerprint touch function.
Integrated image collecting and algorithm chip together, ALL-in-One; the flexibility to adapt to the conditions was the fingers, whether it is dry fingers, wet fingers, light texture fingerprints fingers, and old fingers, all have high recognition rate.
The main application areas: can be embedded into a variety of end products, such as: access control, attendance, safety deposit box
You can dowload R301T user manual from the following website:
Link to manuals and other data:
Link to a library that can be used in this product with Arduino
Specification:
fingerprint reader R301T(semiconductor)
Interface: USB and RS232 (TTL)
Communications baud rate (UART): (9600 × N) bps where N = 1 ~ 12 (default N = 6, ie 57600bps)
Fingerprint reader module size: 33.4 * 20.4 (mm)
Effective collection area: 10 * 10 (mm)
ScanningSpeed < 0.2 second
Verification Speed < 0.3 second
Matching Method: 1:1; 1:N
Resolution 508 DPI
Voltage :DC 4.2-6.0V
FRR (False Rejection Ratio): ≤0.01%
FAR (False Acceptance Ratio): ≤0.0001%
Fingerprint capacity:1700(Default)
Antistatic capacity: 15KV
Abrasive resistance intensity: 1 million times
Peak power consumption: 60 mA
Work environment: -25°C ---50°C
Work Humidity: 0-90%
R301T fingerprint module circuit board diagram
3.3VDC power may be selected to supply when connecting the pin 2 and pin 3.
Caution: Operating carefully, and R301 will be damaged when wong connection.