Productos
Whitebox Labs Tentacle T3 for Raspberry Pi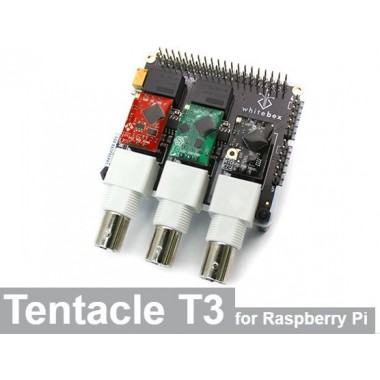 Placa compatible con Raspberry Pi que puede ser host de hasta 5 sensores de Atlas Scientific para medir pH, Oxigeno disuelto, conductividad eléctrica, potencial de óxido-reducción, dióxido de carbono y más. No incluye módulos EZO.
COD: ATLTENT3
Peso: 0.200 Kg
Disponibilidad: En Stock

ARS 17269.00
El producto no está disponible para la venta en este momento
Características
Desciption:
No wiring, no bread boards
No soldering necessary, comes fully assembled
Attach up to 3 EZO

™

devices. 5 Channels supported.
Works with the EZO-PMP

™

embedded dosing pump.
Built in electrical isolation means that sensors won't interfere with each other
Automatically removes outside electrical noise that can interfere with readings
I2C ONLY
Tentacle T3 does not come with any

EZO™

class devices.

If you are looking for a fast and easy way to read multiple sensors from an Raspberry Pi, the Whitebox Labs Tentacle T3 is for you. The Tentacle T3 eliminates the need for wiring, multiplexing and electrical isolation.
Usefull Links:
https://www.whiteboxes.ch/tentacle/#tentacle-t3
https://www.whiteboxes.ch/tentacle/#i2c-or-uart