Productos
Lithium Battery Charge and 5V Boost Board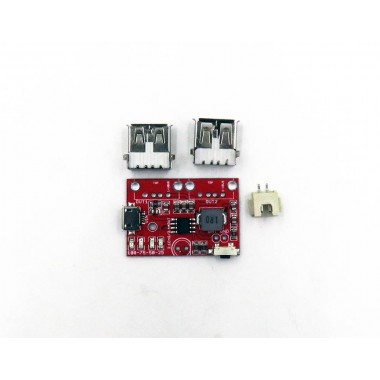 Módulo basado en el integrado IC5306, soporta carga de baterías de Litio a una tasa de 2A. La placa incluye dos salidas USB, una entrada microUSB de 5V para la carga, el conector para la batería y leds de indicación de nivel de batería.
COD: TROOPM1123
Peso: 0.002 Kg
Disponibilidad: Sin Stock

ARS 218.00
El producto no está disponible para la venta en este momento
Características
Product Description
Based on Chinese power bank (portable battery power supply) mature solution IC 5306, this is the demo board.
Support Lithium battery charge on 2A rate. Single 2A boosted 5V output or two 1.2A 5V output, great for portable 5V device like Raspberry pi.
SOP8 and simpe perpherial circuit, very good performace.
Due to the simple perpherial circuit, it is easy to redesign and customize.
Board interface inlcudes:

Two reserved USB output
MicroUSB 5V charge input
XH2.54 and 2-pin battery connecto
4 LEDs battery volume indicator (100%, <75%, <50%, <25%)
Push button and light: short press to acivate from sleep, or long press to turn on/off light.

Note:

Board will auto enter into sleep mode when no load.
Output two USB A port and XH2.54 smd connector is not soldered yet.
About 5306 IC:
Synchronous switch charge and discharge

2.4A synchronous boost conversion, 2.1A synchronous switch charging
boost efficiency up to 96%
Charging efficiency up to 97%
Built-in power path management, support edge charge side
support load large current line fill function

Charge

adaptive charge current regulation, matching all adapters
Charging voltage accuracy: ± 0.5%
Supports 4.20 / 4.30 / 4.35 / 4.40V battery

Power display

support 4,3,2,1 LED power display

Feature-rich

Push the key
Built-in lighting driver
Automatically detect phone insertion and removal

Low power consumption

intelligent identification load, automatic standby
Standby power consumption is less than 100 μA

BOM minimalist

Power MOS built-in, single inductor to achieve charge and discharge

Multiple protection, high reliability

output overcurrent, overvoltage, short circuit protection
input overvoltage, overcharge, over discharge, over-current discharge protection
machine over-temperature protection
ESD 4KV, instantaneous pressure 12V