Productos
DIY EC1621 DS3231 Electronic Clock & Acrylic Shell Kit (Color Green)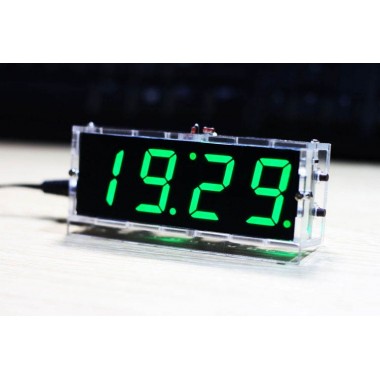 Kit para armar un reloj digital, con carcasa de acrilico. Además puede informar temperatura, día de la semana y se pueden programar alarmas. Display inteligente capaz de regular la intensidad de la luz (COLOR VERDE).
COD: EAPK32310CG
Peso: 0.150 Kg
Disponibilidad: Sin Stock

ARS 2927.00
El producto no está disponible para la venta en este momento
Características
This DIY EC1621 DS3231 electronic clock & acrylic shell kit has a lots of functions, except that you need to soldering them by yourself. It use the 51 series chip, and also provide a shell for protecting. Except the basic 12-hour/ 24-hour display, it also has the following functions.
Exact timing: Adopts DS3231 chips, official said the accuracy comes to 2PPM.
Chime on every hour: User can set the hour time randomly and choose the ring you like.
Dual Alarm clock: Dual independent alarm clock, user can set the duration and ring.
Temperature: It has the Centigrade and the Fahrenheit, which can be calibrated.
Intelligent light control: It can lower the brightness when gets dark, user can set the light control level (total 5 level) according to preferences.
Display by circle: The Time, Temperature, Date and Week display in circle. It only shows time when you close the circle display.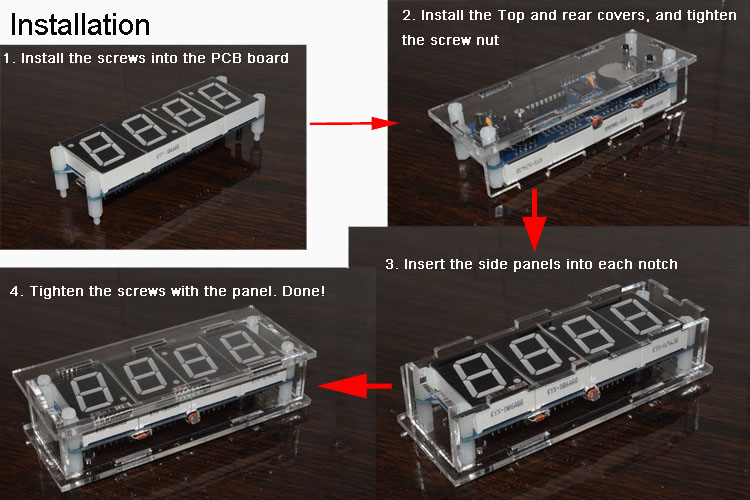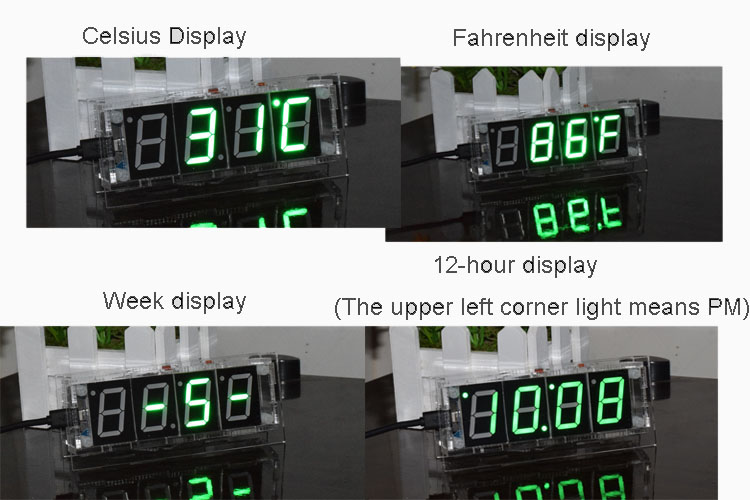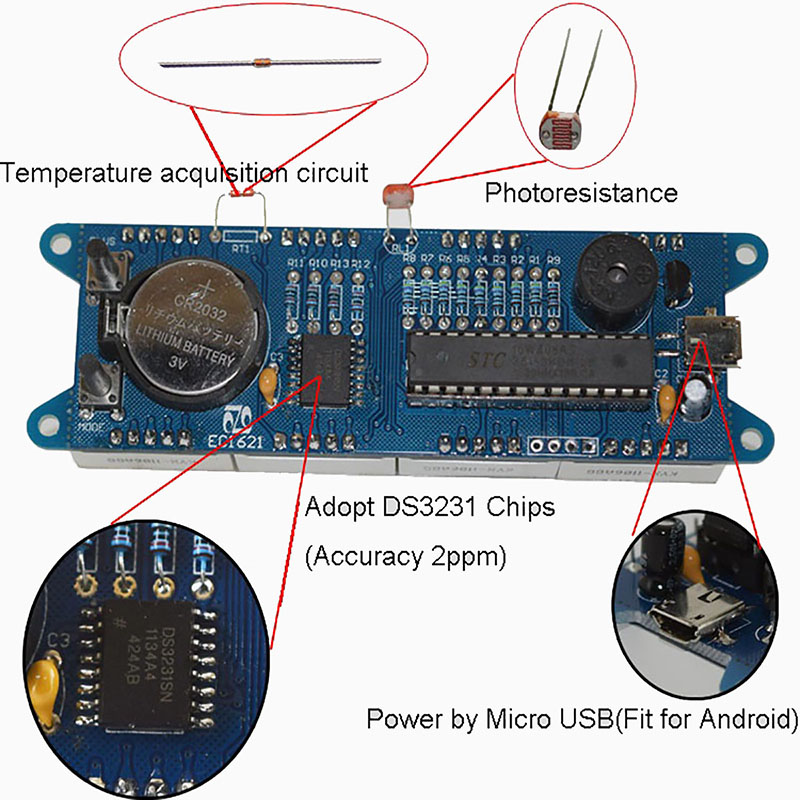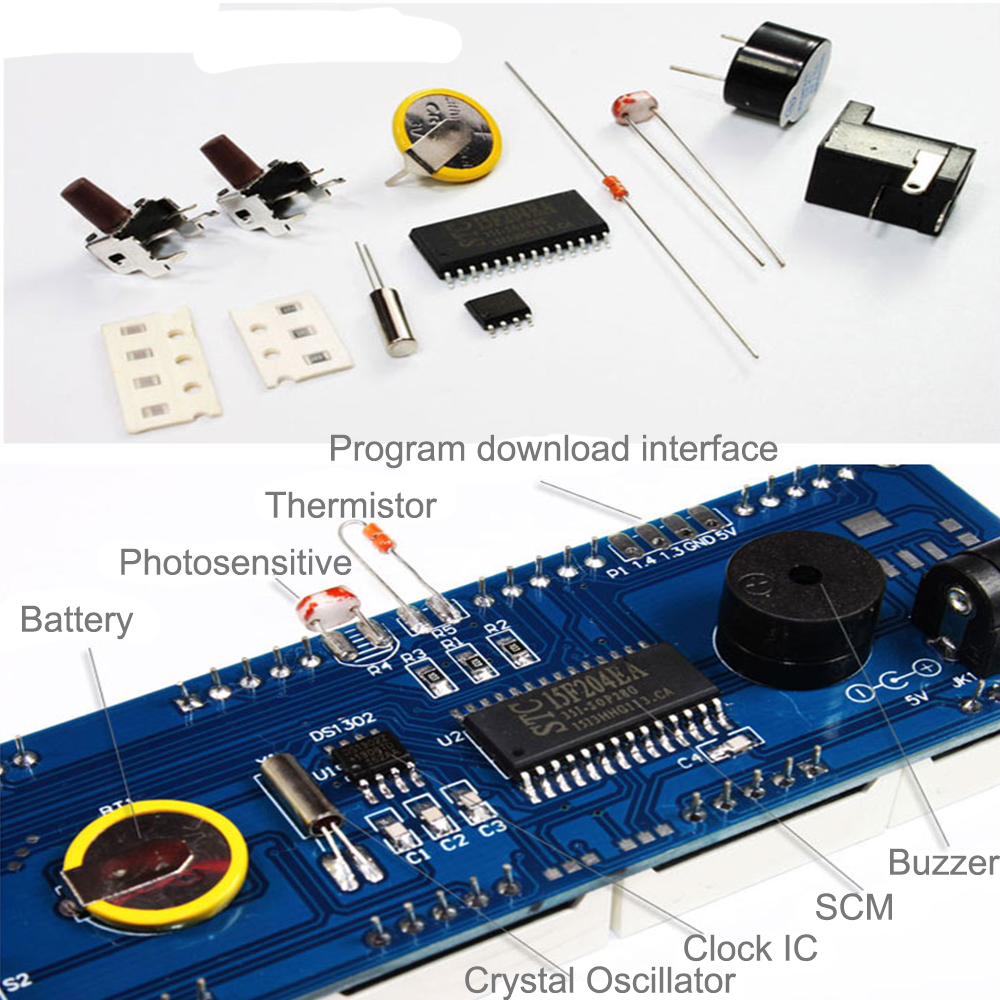 Specifications
PCB parameter: 110.4 * 34 * 1.6mm (Blue)
Parameter with case: 122.8 * 51.4 * 29mm
Digital Tube working voltage: DC 5V
Operating Current: around 50mA
Package list
1 x Battery Holder
1 x Battery
1 x Capacitor(Cap3)
2 x Capacitor(104)
4 x nixie tube
1 x Loudspeaker
1 x PNP transister
8 x Resistor(470R)
5 x Resistor(20K)
1 x photoresistor
1 x thermistor
2 x switch
1 x MCU
1 x 28 PIN holder
1 x RTC IC
1 x USB seat
1 x Power line
1 x PCB Board
Crowtail- Electromagnet x1
Crowtail cable x 1