Productos
RCWL-0516 Microwave Radar Sensor Switch Module Body Induction Module 4-28V 100mA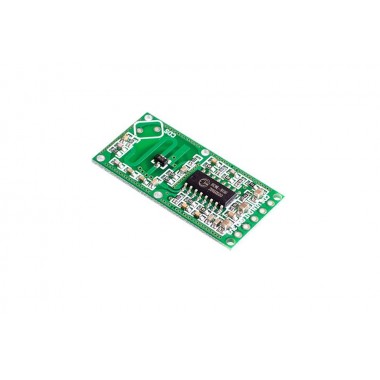 Sensor de movimiento basado en el chip RCWL-9196; puede alimentarse de 4 - 28V y tiene un rango de detección de 5 a 9 m; ideal para proyectos de seguridad entre otros.
COD: ESEM25428R
Peso: 0.003 Kg
Disponibilidad: En Stock

ARS 302.00
El producto no está disponible para la venta en este momento
Características
This mini doppler radar sensor module is equipped with supporting DC 4-28V wide voltage This is a mini radar motion sensor module is equipped with RCWL-9196 chip based on the doppler microwave induction technology. It will automatically comtinuously output the high level TTL signel when there is motion. 360 degree no blind angle detection and maximum 7m sensoring distance with adjustable delay time and sensitivity. It is perfect for DIY microwave motion sensor light switch, human sensor toys, smart security devices, etc.
Notice:
1.The right ahead of induction side should't place any metal to block
2.The front/back side should reserve more than 1cm space
3.Module and installation carrier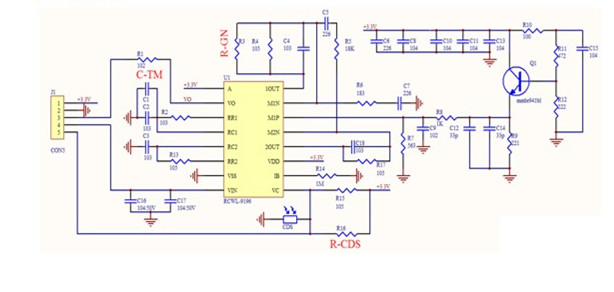 Features
Equipped with RCWL-9196 chip supporting 4-28V wide voltage input, high level signal output when detecting the motion with active repeat trigger
360 degree no blind angle detection with 5-7m deteciting distance, the detection not affected by the surroundings, better performance than the IR sensor
Support night detecting function turn on /off, adjustable repeat trigger time and detecting distance by add the SMD components to the corresponding pins
Working Voltage: DC 4-28V, Board Size: 35.9 X 17.3mm/1.41 X 0.68inch
Specifications
Operating Voltage: 4-28V
Operating Current: 2.8mA (typical); 3mA (max)
Detection Distance: 5-9m
Transmitting Power: 20mW (typical); 30mW (max)
Output Voltage: 3.2-3.4V
Output Voltage Driving Capacity: 100mA
Trigger Way: repeat trigger
Output Control Low Level: 0V
Output Control High Level: 3.3V
Operating Temperature: -20~80 celsius
Storage Temperature: -40~100 celsius
Adjustment Part Introduction:
1.C-TM Adjust repeat trigger time,default trigger time is 2s;increasing capacitor's capacity will make repeat trigger time longer;and actual counting trigger time can operate as below: Stick capacitor on C-TM,test 9196 3-pin frequency F,repeat trigger time T=(1/f)*32768
2.R-GN Detection distance adjustment;connect with resistor and detection distance will become shorter;if not connect,detection distance is 7m;if connect with 1M ohm resistor,detection distance is 5m
3.R-CDS Internal VCC parallel connect with internal 1M ohm resistor to CDS pin (that is 196 9-pin) by R-CDS ,CDS connects with photoresistor,you can close detection function at night
Pin Definition:
3V3:3V3 power output
GND:ground
OUT:control output;when detect moving objects,it will output high level
VIN:input voltage,4-28V
CDS:enable control chip,lower than 0.7V,OUT will output low level all the time
Package list
RCWL-0516 Microwave Radar Sensor Switch Module x1
Wiki & External links