Productos
High Power 100mW 2.4G Wireless Transceiver Module RF Communication NRF24L01P+PA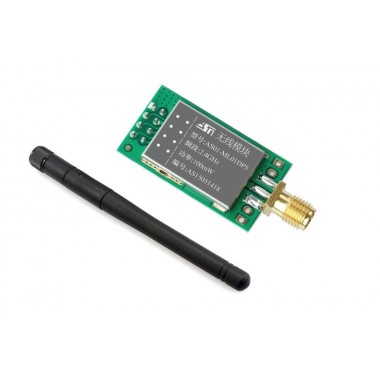 Tranceiver que opera en el rango 2.4GHz, posee interfaz SPI para la comunicación con microcontroladores. Incluye antena.
COD: ECRF19969D
Peso: 0.018 Kg
Disponibilidad: Sin Stock

ARS 1567.00
El producto no está disponible para la venta en este momento
Características
AS01-ML01DP5 is a 2.4GHZ100mW, high speed (maximum air speed up to 2Mbps) high stability, industrial grade wireless transceiver integrated digital transmission module. Module uses nRF24L01P RF chip and RFX2401C power amplifier chip, built in LNA, the receiving sensitivity of 10dBM, working in the ISM 2.4GHZ-2.5GHZ band, with a metal shield, strong anti-interference performance. This module has the advantages of full power, very good spectral characteristics, small harmonic, small channel crosstalk, small size, is the model of industry standard.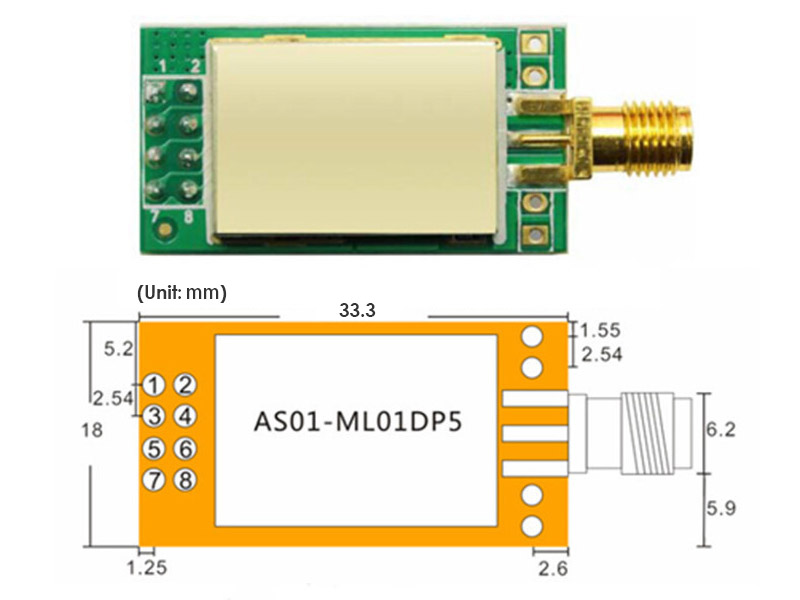 Features
Using the Norway native nRF2401+PA+LNA (with power amplifier remote module)
Universal 2.4G bands, using 5MA wireless base + anti-interference shielding cover
Anti jamming performance is good, good consistency of module
The measured distance: 1750@250kbps
Support 250kbps 1Mbps, airspeed, 2Mbps
1.9V -3.6V wide voltage range
Ultra low standby power consumption shutdown current: 900nA
Maximum emission current: 95mA@20dBm (about 100MW)
Maximum receive current; 95mA@2Mbps 19.2mA@250Kbs
Module uses the 16MHZ RF high level specifications of 10ppM crystal
Compatible with nRF2401A, 2402, nRF24E1,24E2
Industrial Application distance up to 2000 m above the limit
Operating frequency range, 2.400GHz ~ 2.525GHz
Small size, 33x18mm, 2.54mm dual inline package
Wide voltage range, 1.8V ~ 3.6V
Operating temperature range, -40 �?? ~ + 85 �??
Four adjustable transmit power
Data transfer rate support 250Kbps, 1Mbps, 2Mbps
Receive current 23mA, 20dBm power emission current 150mA, power-down mode only 1uA
6 data channels, 126 communications channel, 1MHz Stepping
CRC checksum and multipoint address enhanced "ShockBurst" mode, the hardware of control
Data packets can transmit 1 ~ 32Byte of data each time
4-wire SPI communication port, the communication speed of up to 10Mbps, adapted to be connected with a variety of MCU, simple programming
You can set the operating frequency, mailing address, transmission rate and packet length by software
Module IRQ interrupt output instructions
Applications
Hotel electronic door locks, biometric access control systems
Intelligent teaching equipment, baby care, medical ward call system
Household appliances and lighting intelligent control
Water, electricity, gas, heating automatic meter reading fee or reactive power compensation system and network monitoring
LED screen wireless transmission of text, pictures and radio control
Wireless crane scale, vehicle monitoring, aging equipment testing wireless mouse, keyboard, joystick consoles
Hotel electronic door locks, biometric access control systems
Intelligent teaching equipment, baby care, medical ward call system
Household appliances and lighting intelligent control
UAV Remote Communications
Wireless Access
Wireless data communication
Security System
Remote control device
Telemetry
Intelligent sports equipment
Industrial Sensors
Toy
Package list
High Power 100mW 2.4G Wireless Transceiver Module RF Communication NRF24L01P+PA x1
Antenna x 1