Productos
AC-DC Isolated Dual Output 12V/1A 5V/1A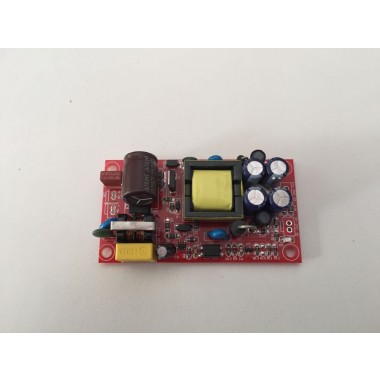 Fuente de alimentación, entrada 85 a 265 VAC, salidas 5V 1A y 12V 1A, alta eficiencia.
COD: TROOPM1065
Peso: 0.010 Kg
Disponibilidad: Sin Stock

ARS 1816.00
El producto no está disponible para la venta en este momento
Características
Product Description
This power supply is fully isolated industrial internal power module with temperature protection, overcurrent protection and short circuit full protection, AC85 ~ 265V wide voltage input, high and low voltage isolation, DC12V1A 5V1A dual isolated output voltage, 431 regulated output with EMI filter circuit, with status LED, with installation holes, cost-effective.
Note: This section is dual voltage power supply output is recommended when using two load output voltage while the power to achieve the best design performance, if only one of them to go all the way to select the appropriate category of single output power supply voltage.
Features:
Input (full load): AC 85-265V
Input current (full load): 0.027(AC110V) 0.0136(AC220V)
Input inrush current (full load): 20A
Output: 12V, 0-1A, 1.2A max, output voltage range 11.80~12.5V, 150mV voltage wave
Output: 5V, 0-1A, 1.2A max, output voltage range 4.90~5.1V, 80mV voltage wave
DC output power: 17W
Efficiency: 84%
On/off overload range: 10%
Output upward time: 100ms
Size: 7.5*4.0*1.9 cm
Protection: overload, short circuit, overheat, over-current protection. Board will lock and recover when turn it on/off.
Reliability: Environment 25ºC, at 80% load MTBF more than 16,000 hours
Silk print: V1 = 5V, V2=12V