Productos
CL-4 Aluminium Robot Arm Clamp Claw Mount Kit with MG996R Servo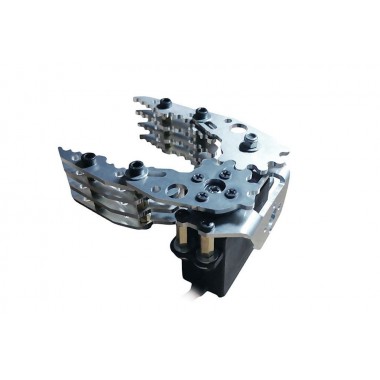 Kit de robótica que incluye una garra para armar y un servo. Ideal para fines educativos.
COD: ERBP15093C
Peso: 0.160 Kg
Disponibilidad: En Stock

ARS 2508.00
El producto no está disponible para la venta en este momento
Características
This is an all-metal mechanical claw kit, which can be controlled by the MG996R, the assembly process is relatively simple, suitable for robot education hands-on training. Assembly of the finished machine claw clamping force, structural stability, it can be precise control with MG996R steering gear and the appropriate controller. This claw can be used in DIY robots, in many applications which can play an important role, you can try to use it to create a grasping crane machine. A multi-degree of freedom of the robot, or even a fighting robot.
Features
Aluminium Clamp unassembled Servos
Durable Metal Gear/li>
Dual Ball Bearing
Programmable Digital Amplifier with Mosft Drive
Less Noise
Specifications (Claw)
Material: Hard aluminum alloy
Weight: about 40g (without servo)
The maximum angular spacing: 86mm
Overall length: 83 mm (maximum overall length when the claws are closed)
Overall width (maximum overall width when paw is opened): 150 mm
Overall width (maximum overall width when paw is closed): 55mm
Overall thickness: 54mm (maximum overall thickness of the pawl with steering gear)
Specifications (MG996R)
Product Name: TOWER PRO MG996R (MG995 upgrade product)
Factory number: MG996R
Product weight: 55g
Product size: 40.7 * 19.7 * 42.9mm
Product pull: 9.4kg / cm (4.8V), 11kg / cm (6V)
Reaction speed: 0.17 sec / 60 degree (4.8 v)
Reaction speed: 0.14 sec / 60 degree (6 v)
Working voltage: 4.8-7.2V
Operating temperature: 0 ºC -55 ºC
Gear type: metal gear
Operating deadband: 5us (microseconds)
Package list
Full metal construction kit x1
MG996R x 1