Productos
TB6600 0.2-5A Stepper Motor Driver Controller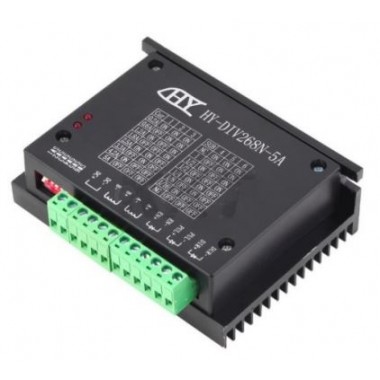 Driver para motores paso a paso de dos fases, basado en el TB6600. Soporta hasta 50VDC y 5A.
COD: HTHR0214-77
Peso: 0.246 Kg
Disponibilidad: En Stock

ARS 4350.00
El producto no está disponible para la venta en este momento
Características
CNC Single Axis TB6600 0.2-5A Two Phase Hybrid Stepper Motor Driver Controller
Feature:
100% Brand New And High Quality
High performance, cost-effective.
Automatic idle-current reduction.
Supply voltage up to 50V DC
Output current up to 5.0A.
Suitable for 2-phase and 4-phase motors.
High speed optoelectronic isolation signal input.
Single-chip PWM bipolar sinusoidal chopper ensures low vibration and high efficiency.
1, 2, 4 (New Mode), 8, 16 adjustable microstep control, motors run more precisely and smoothly.
Equipped with the 3rd generation of breakout board, display panel and control pad to control the motor manually.
Overload, overcurrent, overheat, overvoltage and undervoltage protection to avoid damaging your computer and devices.
Cooling Aluminium Box Design for Cooling, and protect the driver board from being damaged by dirt, dust or other liquids.
The TB1H is a high performance microstepping driver based on the latest original for TOSHIBA high-efficiency TB6600HG IC. The TB6600HG adopts single-chip PWM bipolar sinusoidal chopper to ensure the low vibration and high efficiency. Moreover, the brand new design with BiCD0.13 (50V) process technology on the chipset also ensures maximum 5.0A output current and 50V output withstand voltage. Consequently, as long as the current range of the stepper motor is within 0.2-5 amps, all the 2 Phase or 4 Phase of Nema17, Nema23, Nema24 and Nema34 stepper motors will work perfectly with this new-type TB6600HG Stepper Driver.
Applications:
For processing various pattern mould.
For advising, such as brand, architechture mould, badge, nameplate, display boards, doorplate, furniture decoration, etc..
For carving portrait, scenery, handwriting, sealing, etc..
Suitable for any small-and-medium automatic equipment with CNC controller, such as X-Y-Z tables, labeling machines, laser cutters, engraving machines, and pick-place devices.
Color:black
Product Weight: about 236g
Package includes:
1 x CNC Single Axis TB6600 0.2 - 5A Two Phase Hybrid Stepper Motor Driver Controller