Productos
Arducam Mini Multi-Camera Adapter Board for Arduino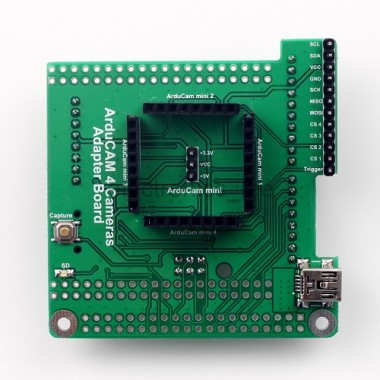 Placa con adaptadores integrados para poder conectar hasta 4 mini cámaras Arducam. Compatible con Arduino, Raspberry, FPGA, DSP, y ARM.
COD: UCB0074
Peso: 0.050 Kg
Disponibilidad: En Stock

ARS 2376.00
El producto no está disponible para la venta en este momento
Características
Item Description:
ArduCAM-Mini multi-camera adapter board is designed for using up to 4 ArduCAM-Mini camera boards on a single microcontroller including the Arduino, BeagleBone Black and Raspberry Pi platform. The adapter board can be well mated with these popular open source ardware platform but not limited to them, you can also connect this adapter board to any platform you are familiar with as long as they have a free I2C and SPI interface.
Features:
Accommodate up to 4 ArduCAM mini boards.
Onboard SD/TF card storage (only available for Arduino).
Additional power supply input.
Well mate with Arduino, Raspberry Pi and BeagleBone Black boards.
Application

IoT cameras.
Robot cameras.
Panorama cameras.
Can be used in MCU, Raspberry Pi, ARM, DSP, FPGA platforms.
Download:
Package Including:
1pcs Arducam Mini Multi-Camera Adapter Board for Arduino
Note:The Arducam Mini camera modules and Arduino 328 compatible not included in this package.