Productos
4WD Suspension Chassis Smart Shock Absorption Car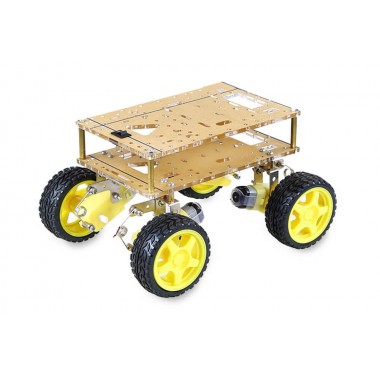 Kit para armar un auto de 4 ruedas, con amortiguación. Ideal para tus proyectos!
COD: ERBP53575C
Peso: 0.535 Kg
Disponibilidad: Sin Stock

ARS 2296.00
El producto no está disponible para la venta en este momento
Características
It's a suspension damping car with four wheels and two layers thickness of 3mm acrylic board as main body but also you can choose a layer which is up to you. The acrylic board reserves hole positions for the power button which looks nice and fixes conveniently. Besides there are four rubber 65mm-diameter tires and four strong magnetic motors with shock mitigation system. They are light in weight and suitable for all kinds of terrain. This unique shock mitigation ability ensures that the car won't be damaged easily and four AA batteries could provide sufficient power for the car. Compared with the currently available four wheels car, this one absolutely seckills with suspension damping so that even from a half meter high place falling down it will not damage over the EMC detection of strong magnetic motor high interference. It's so high anti-jamming! Specially the tire speed could reach 90rpm when there is no loading. Moreover there are some other stainless Nylon nuts to make the car more reliable.
Moreover you can diy it to be your own all kinds of cars like ultrasonic smart car and wifi car. It shares stronger adapting ability to environment than the common four-drives car, increasing more possibilities for your car to realize more tasks. But please notice that shipments are sent parts so please self assemble. And the kit presents screw-drivers and sleeves which is more convenient for you to assemble.
Features
high anti-jamming
65mm Diameter Wheels (30mm Wide)
Plastic Rims with Solid Rubber Tires
Specifications
Load weight: 5kg
Torque: 800gf.cm
Stall Current: ~1A
Body size: 21*16*8CM
Working voltage: 3V - 9V
Working current: 400 MA
Floor size: 14 CM X 10.5 CM
No Load Current:190mA(max.250mA)
Speed: 200 r/min (6V power supply)
Max Motor Voltage: 6VDC (voltage suggested 4.5V)
Package list
1 x 4 mm acrylic chassis
4 x Magneto + strong wheels
4 x Fixed a suspension