Productos
Zumo Robot Kit for Arduino, v1.2 (No Motors)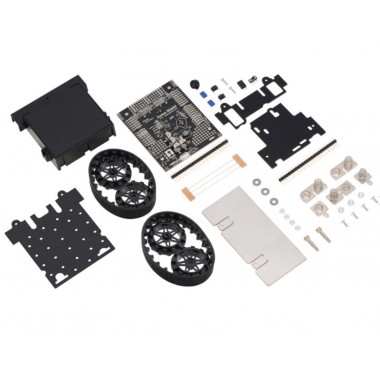 Kit de robótica Zumo V1.2 para Arduino, que incluye el Shield Zumo, el chasis Zumo y otros componentes. No incluye motores.
COD: P002509
Peso: 0.350 Kg
Disponibilidad: Sin Stock

ARS 3715.00
El producto no está disponible para la venta en este momento
Características
This kit contains most of the parts you need to build an Arduino-controlled Zumo robot. It consists of a Zumo Shield for Arduino, v1.2, a Zumo chassis kit, and a Zumo blade. You will also need a pair of micro metal gearmotors, four AA batteries, and an A-Star 32U4 Prime or Arduino to complete your Zumo robot (motors, batteries, and Arduino sold separately). This product is a kit; assembly (including soldering) is required.
Kit Contents
Please see the specific pages for those products for more information about them, assembly instructions, and links to related resources
Required Accessories (not included)
Two micro metal gearmotors.
Four AA batteries. The Zumo chassis works with both alkaline and NiMH batteries, though we recommend rechargeable NiMH cells.
An Arduino or compatible control board. The Zumo Shield works with the A-Star 32U4 Prime, Arduino Uno and Arduino Leonardo. It is not compatible with the Arduino Mega or Due, but it can be used with older Arduinos that have the same form factor as the Uno, such as the Duemilanove. (Other Arduino-compatible controllers might work with the Zumo robot, but support for them will be limited and they might require modification; for example, one customer got his Zumo robot working with the Freescale FRDM-KL25Z board.)
Optional Accessories
Zumo reflectance sensor array. This sensor bar mounts along the front edge of the Zumo shield and allows the Zumo to detect features on the ground in front of it, such as lines for following or edges for avoiding (such as the rim of a sumo ring or the edge of a table). It is designed specifically for use with the Zumo shield.
iMAX-B6AC battery charger for charging the Zumo's battery's through the Zumo Shield's 2-pin charge port. Note that you only need a battery charger if you plan on powering the Zumo with rechargeable cells, and that charger should be capable of charging 4 NiMH cells in series. Alternatively, since the Zumo just uses ordinary AA batteries, you can use AA chargers (into which you stick the individual cells) available at most general electronics stores.
Optical rangefinders for obstacle/opponent detection.
Connectors (headers, jumper wires, etc) for adding more sensors.