Productos
Acrylic Clear Enclosure for pcDuino3 Universal Edition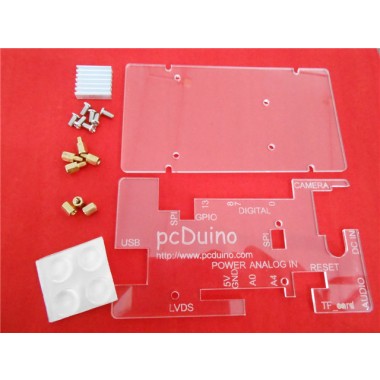 Gabinete acrílico para pcDuino3
COD: LS114202010
Peso: 0.050 Kg
Disponibilidad: En Stock

ARS 3531.00
El producto no está disponible para la venta en este momento
Características
Introduction
This is a acrylic clear enclosure for your pcDuino3. The Arduino shield can still be installed on the pcDuino3 when the enclosure is installed. This enclosure is an universal edition, it can be used with pcDuino3, pcDuino3A and pcDuino3B.
Caution
If your pcDuino3 is Android system, please only fix 3 copper pillars on pcDuino3.
Parts List
1× Acrylic Clear Top Plate for pcDuino3 Universal Edition
1× Acrylic Clear Bottom Plate for pcDuino3
4× Copper Pillar
3× Copper Nut
7× M3 Screw
4× Foot Sticker
1× 19X19X5mm + 17X17mm
Usage
The usage of this enclosure is similiar to Acrylic Clear Enclosure for pcDuino3, you can refer to its installation instructions.