Productos
SIM808 GPS/GPRS/GSM Shield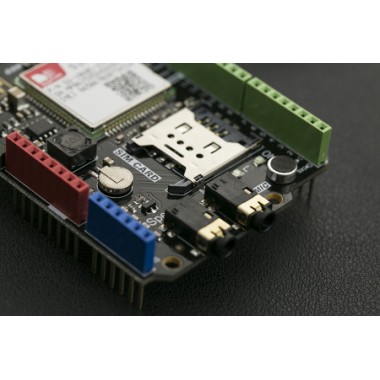 Shield Arduino con módulo GPS y comunicación por GPRS (celular). Ideal para tracking satelital de vehículos, soporta SMS, MMS, DTMF y FTP entre otras funciones.
COD: DFTEL0097
Peso: 0.050 Kg
Disponibilidad: En Stock

ARS 9699.00
El producto no está disponible para la venta en este momento
Características
SIM808 GPS/GPRS/GSM is an integrated quad-band GSM/GPRS and GPS navigation technology Arduino expansion shields. A credit card size only, according to the standard Arduino pin packaging, compatible with Arduino UNO, Leonardo, Mega and other mainboard.

Compared to the previous generation SIM908, SIM808 made some improvement on performance and stability. In addition to the normal SMS and phone functions, the shield also supports MMS, DTMF, FTP and other functions. You can achieve the data acquisition, wireless data transceiver, IoT application and GPS orientating. The should integrates onboard microphone and headphone jack, saving your cost and making your project easily. it can also directly connect to the GSM and GPS antenna by an external antenna connector.

SIM808 GPS/GPRS/GSM Shield V1.0 uses the latest version of Simcom SIM808 module, compared with the early SIM808 module available in the market, the newer module has better stability.
Operating voltage: 5V
Input Power: 7-23V
Quad-band 850/900/1800/1900MHz
GPRS multi-slot class 12/10
GPRS mobile station class B
Comply with GSM phase 2/2 +
Class 4 (2 W @ 850 / 900MHz)
Class 1 (1 W @ 1800 / 1900MHz)
Support low power consumption mode: 100mA @ 7V-GSM mode
Support AT command control (3GPP TS 27.007,27.005 and SIMCOM enhanced AT Commands)
Support GPS satellite navigation technology
Support LED status indicator: Power supply status, network status and operating modes
Working environment: -40 ? ~ 85 ?
Size: 69 * 54mm/2.71 * 2.12 inches
Weight: 50g
SIM808 GPS/GPRS/GSM Shield x1
GPS Antenna x1
GSM Antenna x1