Productos
Stepper Motor - 125 oz.in (200 steps/rev, 600mm Wire)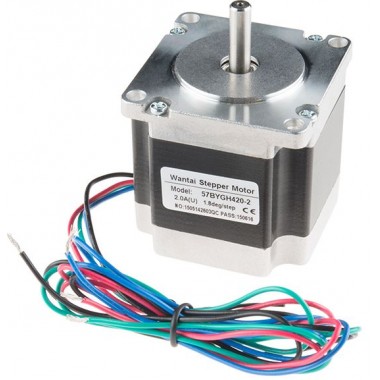 Motor paso a paso de 125 oz.in (0,88 Nm), de 200 pasos x revolución que viene con 600 mm de cable.
COD: SFROB13656
Peso: 0.684 Kg
Disponibilidad: En Stock

ARS 8151.00
El producto no está disponible para la venta en este momento
Características
Stepper motors are great motors for position control. They can be found in desktop printers, plotters, 3d printers, CNC milling machines, and anything else requiring precise position control. Steppers are a special segment of brushless motors. They are purposely built for high-holding torque. This high-holding torque gives the user the ability to incrementally step to the next position. This results in a simple positioning system that doesn't require an encoder. This makes stepper motor controllers very simple to build and use.
These stepper motors, in particular, are used with the Shapoko CNC machine and offer 125 oz.in of torque and 200 steps per revolution. Additionally, each motor has been equipped with extra long 600mm AWG22 wires, making them ideal for CNC applications.
Note: This is a Bipolar stepper.
Features:
2-Phase
Steps per Revolution: 200
Step Angle: 1.8º
Voltage: 3.2V
Current: 2.0A/Phase
Resistance: 1.6 ± 10% ohms/Phase
Inductance: 5.5 ± 20% mH/Phase
Recommended Holding Torque: 125 oz.in
NEMA 23 Form Factor
600mm Long AWG22 Wire
Documents: