Productos
Adafruit FONA 800 Shield - Voice/Data Cellular GSM for Arduino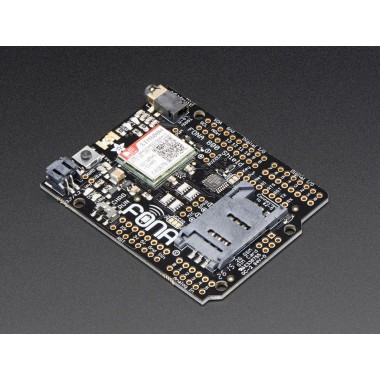 Añadile a tu Arduino las mismas funciones que tu celular! Voz, texto, SMS y conexión a Internet!
COD: D002468
Peso: 0.017 Kg
Disponibilidad: En Stock

ARS 6539.00
El producto no está disponible para la venta en este momento
Características
Ring, Ring! Who's that callin'? It's your Arduino! Introducing Adafruit FONA 800 Shield, an adorable all-in-one cellular phone shield that lets you add voice, text, SMS and data to your project in an easy to use pluggable shield.
This shield fits on top of any classic Arduino or compatible, and packs a surprising amount of technology into it's little frame. At the heart is a GSM cellular module (we use the latest SIM800) the size of a postage stamp. This module can do just about everything.
Quad-band 850/900/1800/1900MHz - connect onto any global GSM network with any 2G SIM (in the USA, T-Mobile is suggested)
Make and receive voice calls using a headset OR an external 8Ω speaker + electret microphone
Send and receive SMS messages
Send and receive GPRS data (TCP/IP, HTTP, etc.)
Scan and receive FM radio broadcasts (yeah, we don't exactly know why this was included but it works really well)
PWM/Buzzer vibrational motor control
AT command interface with "auto baud" detection
Sounds delicious, right? So we plated this fine module onto a shield with all the extras you need to make your next project shine.
Onboard LiPoly battery charging circuitry so you can take your project on the go. Use any 500mAh+ LiPoly or LiIon battery and recharge via the Arduino when necessary. Two LEDs let you know when its charging and done. You can then flip the switch and use the battery to run your circuit!
Breakouts for external 8Ω speaker and electret mic if you don't want to use a headphone
Level shifting circuitry to make it Arduino-safe
Vibrational motor (buzzer) driver so you can have noiseless notifications
uFL connection for external antenna
Indicator LEDs for power and network connectivity
On its own, this shield can't do anything. It requires a microcontroller like an Arduino to drive it! You will also need some required accessories to make FONA work. These are not included!
Each order comes with one tested and assembled FONA shield and a stick of 0.1" male header. Required Arduino, SIM card, battery, antenna and other accessories are not included! Some light soldering is required to put the headers onto the shield. You can also grab some stacking headers if you would like to stack a shield on top.
There's also some recommended accessories. They are not required but chances are you'll want them!
Check out our tutorial for all of the details that you can dream of!
TECHNICAL DETAILS
Revision History:
As of January 18, 2016 we have replaced the SIM800L module with SIM800H which is backward compatible. Note that this board design does not have a bluetooth antenna on it so you cannot use the BT capabilities of the SIM800H
Datasheets:
Dimensions:
53mm x 69mm x 7mm / 2.1" x 2.7" x 0.3"
Weight: 17g
Comentarios
Escribir Comentario
OpenHacks
(25/08/2016 - 10:56)
Hola Ariel, es compatible con Arduino UNO. Saludos!
Ariel
(24/08/2016 - 11:59)
Es compatible con Arduino UNO?