Productos
VoCore v1.0 Linux SBC with WiFi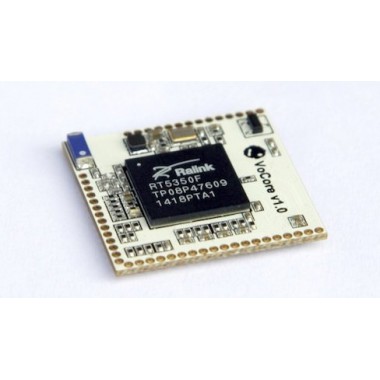 VoCore es una pequeña placa con el poder de una computadora (Linux). Incluye WiFi, USB, GPIOs y más!
COD: OD0158V
Peso: 0.010 Kg
Disponibilidad: En Stock

ARS 8151.00
El producto no está disponible para la venta en este momento
Características
VoCore is a tiny single-board computer. Use it for all types of projects where tiny size, inexpensive cost and built-in WiFi are important. The VoCore is open hardware which runs OpenWrt (Linux) and has WiFi, USB, UART, 20+ GPIOs and more. One inch square!
OpenWRT is a popular router firmware, so the VoCore is by default a super tiny WiFi router!
KEY FEATURES
One-inch square
Built-in WiFi
Built-in Antenna
UART
20+ GPIO Pins
Runs OpenWRT (Linux-based) - Preloaded!
QUICK START
Attach Power
Connect to SSID "VoCore" from your wireless device (phone, computer, laptop, tablet, ODROID, etc.)
Open a browser and go to http://192.168.61.1 (login is user: root, pass: vocore)
Alternately, open an SSH session (PuTTY, etc.) and connect to 192.168.61.1 (login is user: root, pass: vocore)
SPECIFICATIONS
The RT5350 SoC combines Ralink's IEEE 802.11n draft compliant 1T1R MAC/BBP/PA/RF, a high performance 360 MHz MIPS24KEc CPU core, a 5-port integrated 10/100 Ethernet switch/PHY and a USBhost/device. With the RT5350, there are very few external components required for 2.4 GHz 802.11n wireless products. The RT5350 employs Ralink's 2nd generation 802.11n technologies for longer range and better throughput. The embedded, high performance CPU can easily manage advanced applications such as Wi-Fi data processing without overloading the host processor. In addition, the RT5350 offers a variety of hardware interfaces (SPI/I2S/I2C/PCM/UART/USB) to support a range of possible applications.

Applications
iNIC
AP/Router
Embedded Applications

Features
Embedded 1T1R 2.4G CMOS RF
Embedded 802.11n 1T1R MAC/BBP withMLD enhancement
Embedded PA/LNA
150 Mbps PHY data rate
20 Mhz/40 MHz channel width
Legacy and high throughout modes
Compressed block ACK
Bluetooth Co-existence
Multiple BSSID (up to 16)
WEP64/128, WPA, WPA2, WAPI engines
QOS - WMM, WMM Power Save
Hardware frame aggregation
Supports 802.11h TPC
MIPS 24KEc 360 Mhz with 32 KB I cache/16KB D cache
Supports 16-bit SDR SDRAM (up to 64 MB)
Supports boot from ROM, FLASH
USB 2.0 HOST/Device dual mode x1
Embedded 5-port 10/100 Mbps Ethernet switch and 5-port UTP PHY
Supports 5 10/100 UTP ports
Slow speed I/O : GPIO, SPI, I2C, I2S, PCM,UART, and JTAG

Packaging and I/O voltage
12 mm x 12 mm TFBGA-196 package
I/O: 3.3 V I/O
LINKS