Productos
ODROID-C2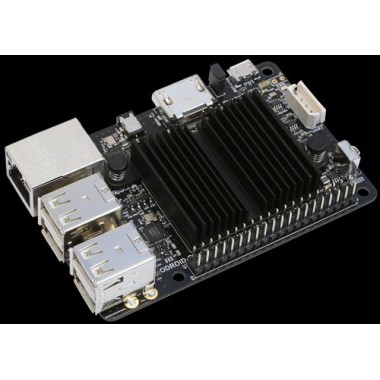 Potente board de cuatro núcleos -64 bits- a 1.5GHz mas una unidad de procesamiento gráfico de 5 núcleos capaz de mostrar videos 4K a 60fps.
COD: OD002A
Peso: 0.040 Kg
Disponibilidad: Sin Stock

ARS 16908.00
El producto no está disponible para la venta en este momento
Características
Why settle for a lower specification single-board computer? Get a quad-core 64-bit CPU @ 1.5GHz + five-core capable of displaying 4K video at 60fps + 2GB DDR3 RAM + Gigabit Ethernet + 4x USB2.0 ports + infrared receiver + more!
The C2 makes the perfect single-board computer for high-end video output, high-performance computing, software development and projects. The ODROID-C2 gives loads of satisfaction and fun with incredible performance at a tiny price.
KEY FEATURES
Powerful Linux/Android Computer
1.5GHz 64-bit quad-core CPU, multi-core GPU, 2GB DDR3 RAM
10/100/1000Mbps Ethernet with RJ-45 LAN jack
4 x high speed USB2.0 host ports
40 GPIO pins + 7 I2S pins (quasi-Raspberry Pi compatible - pins 37, 38, and 40 are not compatible with the Pi B+ as they are dedicated for analog inputs)
Linux or Android available
Size: 85 x 56 x 18 mm, Weight: 40g
Package includes main board
UPGRADED FEATURES
Full-sized HDMI2.0 connector (Type A)
Heat sink included (a $3.95 value)!
USB OTG power path switch
I2S signals exposed for external audio DAC - The I2S signals can be easily accessed on the C2 in order to permit the use of an external audio Digital-to-Analog Converter (DAC) like the C1+ HiFi Shield.
NOT INCLUDED
No power supply included - Consider an ODROID 5VDC/2A power supply available on this site
No microSD or eMMC card included - eMMC memory is much faster than microSD memory
No case included
No HDMI cable included - needed to connect to a display device. Recommend HDMI2.0 cable to support 4K output.
RECOMMENDED ACCESSORIES
DISCUSS
NOTES
Powered by 2.5mm barrel connector, or micro USB port (jumper installation required for microUSB).
LINKS
Official Links
Community Links