Productos
Crowtail- Ultrasonic Ranging Sensor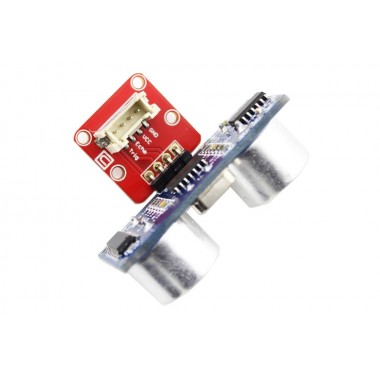 Sensor HC-SR04 con conector Crowtail. Alcance 5 metros, resolución 1cm.
COD: ECT0051URS
Peso: 0.015 Kg
Disponibilidad: En Stock

ARS 888.00
El producto no está disponible para la venta en este momento
Características
This HC-SR04 has stable performance and high ranging accuracy. Compared to the Shap IR ranging module , HC-SR04 is more cheaper than it . But it has the same ranging accuracy and longer ranging distance. So we choose it to become "a family number of our Crowtail", wish more good experience.
Features
Power supply: 5V DC
Effectual angle: < 30 degrees
Ranging distance: 2cm to 500 cm
Resolution: 1 cm
Ultrasonic Frequency: 40k Hz
Package list
Crowtail- Ultrasonic Ranging Sensor x 1
Crowtail Cable x 1
Wiki & External links