Productos
Crowtail- A6 GPRS/GSM Module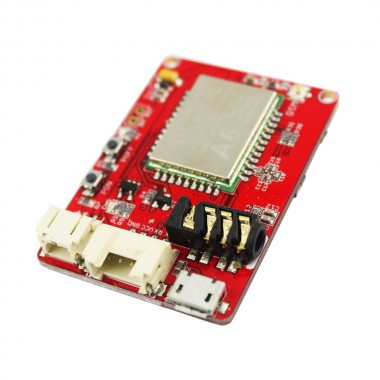 Módulo GPRS/GSM compatible con Arduino enformato Crowtail, para agregar funciones de celular a tu dispositivo!
COD: ECT009818G
Peso: 0.015 Kg
Disponibilidad: En Stock

ARS 4145.00
El producto no está disponible para la venta en este momento
Características
How about "diy" a phone by using the Crowtail module? This is a new Crowtail- A6 GPRS/GSM Module, which is use the newest A6 gprs/gsm chip, A6 is a low-cost but efficient chip. With its ultra-small size, low power consumption and wide operating temperature range, A6 is an ideal solution for M2M applications, for automotive, industrial and PDA, personal tracking, power environmental monitoring, wireless POS, smart metering, and other M2M applications, to provide comprehensive GSM / GPRS text messaging, voice and data transmission services. Our module has specially crowtail interface and we design this module for making it work with Arduino/Crowduino more convenient.
Features
Crowtail compatible
Work voltage: 3.7V lipo battery
Operating temperature -30 ? to + 80 ?;
1KG peak suction
Low standby current
Standby average current 3ma less;
Support the GSM / GPRS Quad-band, including 850,900,1800,1900MHZ;
Support China Mobile and China Unicom's 2G GSM network worldwide;
GPRS Class 10;
Sensitivity <-105;
Support voice calls;
Support SMS text messaging;
Support GPRS data traffic, the maximum data rate, download 85.6Kbps, upload 42.8Kbps;
Supports standard GSM07.07,07.05 AT commands and extended commands Ai-Thinker;
Supports two serial ports, a serial port to download an AT command port;
AT command supports the standard AT and TCP / IP command interface;
Support digital audio and analog audio support for HR, FR, EFR, AMR speech coding;
Support ROHS, FCC, CE, CTA certification;
Specifications
Quad-band: 850/900/1800/1900 MHz
GPRS multi-slot: 12, 1 to 12 may be configured
GPRS mobile station: Class B
Compatible with GSM Phase 2/2 +: Class 4 (2W @ 850/900 MHz) Class 1 (1W @ 1800 / 1900MHz)
Current consumption: 1.3mA @ DRX = 5; 1.2mA @ DRX = 9
AT command control: Standard GSM07.07,07.05 AT commands and extended commands Ai-Thinker
SIM Application Toolkit
GPRS Class 10: Up 85.6 kbps (upstream) & 42.8Kbps (downlink)
PBCCH support
Coding scheme: CS 1, 2, 3, 4
Support CSD: Up 14.4 kbps
Support USSD
Stack: PPP / TCP / UDP / HTTP / FTP / SMTP / MUX
Package list
Crowtail- A6 GPRS/GSM Moddule x1
Crowtail cable x 1
GSM antenna x 1
Wiki & External links