Productos
16 Channel PWM Servo Driver with I2C Interface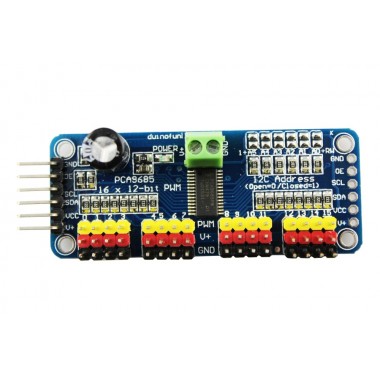 Driver para alimentar hasta 16 motores servo con su señal PWM de control, utilizando solo los dos pines I2C de tu microcontrolador!
COD: ERDR16222C
Peso: 0.011 Kg
Disponibilidad: En Stock

ARS 911.00
El producto no está disponible para la venta en este momento
Características
When you are in your project, encountered a case where the micro-controller chip pwm output pin is not enough, then this PCA9685 16 road steering to help you solve this problem, as long as your main chip with I2C communication function, it is possible to make the main chip and PCA9685 communicate simultaneously achieve a plurality of servo control. It is a a use I2C communication, built PWM drive and a clock. This means that it will TLC5940 series are very different. You do not need to constantly send signals occupy your microcontroller. It is 5v compatible, which means you can also use 3.3v microprocessor controlled and safe driving to 6v output.
Features
Adjustable frequency PWM up to about 1.6 KHz
Configurable push-pull or open-drain output
Output enable pin to quickly disable all the outputs
12-bit resolution for each output - for servos, that means about 4us resolution at 60Hz update rate
6 address select pins so you can wire up to 62 of these on a single i2c bus, a total of 992 outputs - that's a lot of servos or LEDs
Package list
16 Channel PWM Servo Driver with I2C Interface x 1