Productos
Whitebox Labs Tentacle Shield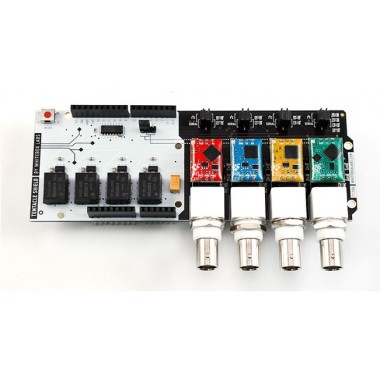 Shield ideal para acoplar hasta cuatro sensores Atlas Scientific a un Arduino. Incluye aislación galvánica para evitar interferencias entre los distintos canales. No incluye las placas adaptadoras para cada uno de los sensores (las mismas se suministran con cada sensor).
COD: ATTENSH
Peso: 0.100 Kg
Disponibilidad: Sin Stock

ARS 76708.00
El producto no está disponible para la venta en este momento
Características
• No wiring, no bread boards
• No soldering necessary, comes fully assembled
• Built in electrical isolation means that sensors won't interfere
with each other
• Automatically removes outside electrical noise that can interfere with readings
• Stackable design lets you control up to 8 sensors at once
• Integrated serial multiplexer
• Works in both UART mode, or I2C mode
• 5V compliant Arduino only!
• Tentacle Shield does not come with circuits

If you are looking for a fast and easy way to read multiple sensors from an Arduino, the Whitebox Labs Tentacle Shield is for you. The Tentacle Shield eliminates the need for wiring, multiplexing and electrical isolation. Because it's an Arduino Shield, it simply plugs into any 5 volt compliant Arduino.
Github
Comentarios
Escribir Comentario
OpenHacks
(22/06/2016 - 17:28)
Hola Diego, podes usarlo con Raspberry usando alguno de los bridges que vendemos para adaptar Shields Arduino a Raspberry. Saludos!
Diego
(18/06/2016 - 07:58)
Hola, lo quiero usar con raspberry, este modulo lo puedo conectar al shield de arduino para RPI?