Productos
CNC Shield V3.5 for Arduino (GRBL v0.9 compatible with PWM Spind)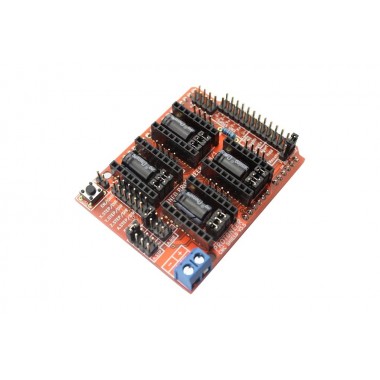 Shield Arduino para control CNC o impresión 3D. Incluye 4 drivers A4988.
COD: ECDP03509S
Peso: 0.032 Kg
Disponibilidad: Sin Stock

ARS 5434.00
El producto no está disponible para la venta en este momento
Características
The Arduino CNC Shield makes it easy to get your CNC projects up and running in a few hours. It uses opensource firmware on Arduino to control 4 stepper motors using 4
A4988 Stepper drivers,
, with this shield and the Crowduino you can build all kinds of robotics or CNC projects including CNC routers,laser cutters and even pick&place machines.
NOTE that the CNC Shield PCB you receive would be RED and the Crowduino& A4988 stepper drivers in the picture not included.
Features
Latest Arduino CNC Shield Version 3.5
GRBL 0.9 compatible. (Open source firmware that runs on an Arduino UNO that turns G-code commands into stepper signalshttps://github.com/grbl/grbl)
4-Axis support (X, Y, Z , A-Can duplicate X,Y,Z or do a full 4th axis with custom firmware using pins D12 and D13)
2 x End stops for each axis (6 in total)
Coolant enable
Uses removable Pololu A4988 compatible stepper drivers. (A4988, DRV8825 and others)
Jumpers to set the Micro-Stepping for the stepper drivers. (Some drivers like the DRV8825 can do up to 1/32 micro-stepping )
Compact design.
Stepper Motors can be connected with 4 pin molex connectors or soldered in place. .
Runs on 12-36V DC. (At the moment only the Pololu DRV8825 drivers can handle up to 36V so please consider the operation voltage when powering the board.)
Useful Links