Productos
Raspberry Pi 3 - Model B - ARMv8 with 1G RAM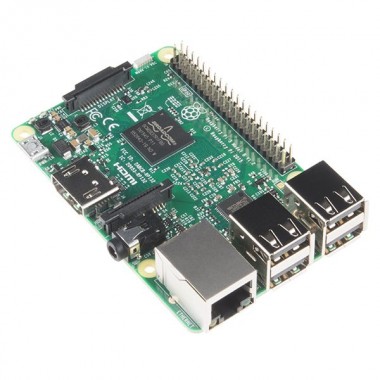 Nuevo modelo de Raspberry Pi con WiFi y Bluetooth! Basada en el procesador BCM2837 64bit ARM Cortex-A53, funcionando a 1.2GHz y 1GB RAM.
COD: EMBRP3B
Peso: 0.100 Kg
Disponibilidad: Sin Stock

ARS 14735.00
El producto no está disponible para la venta en este momento
Características
ATENCION: LA PLACA NO DEBE ALIMENTARSE CON CARGADORES DE CELULARES, HACERLO DE ESTA FORMA ANULA LA GARANTIA.
SOLAMENTE DEBE ALIMENTARSE CON UNA FUENTE DE 5V ESTABILIZADOS. LA GARANTIA NO CUBRE DAÑOS POR ALIMENTAR LAS PLACAS CON FUENTES INADECUADAS.


Description: Everyone knows and loves Raspberry Pi, but what if you didn't need additional peripherals to make it wireless. The Raspberry Pi 3 is here to provide you with the same Pi as before but now with double the ram and a much faster processor. The credit-card sized computer is capable of many of the things that your desktop PC does, like spreadsheets, word-processing and playing high-definition video and games. It can run several flavors of Linux (and even Windows 10 free-of-charge) and is being used to teach kids all over the world how to program…
The secret sauce that makes this computer so small and powerful is the Broadcom BCM2837, an ARM Cortex-A53 64bit Quad Core Processor System-on-Chip. The GPU provides Open GL ES 2.0, hardware-accelerated OpenVG, and 1080p30 H.264 high-profile decode and is capable of 1Gpixel/s, 1.5Gtexel/s or 24 GFLOPs of general purpose compute. What's that all mean? It means that if you plug the Raspberry Pi 3 into your HDTV, you could watch BluRay quality video, using H.264 at 40MBits/s.
The biggest change that has been enacted with the Raspberry Pi 3 is an upgrade to a next generation main processor and improved connectivity with Bluetooth Low Energy (BLE) and BCM43143 WiFi on board. Additionally, the Raspberry Pi 3 has improved power management, with an upgraded switched power source up to 2.5 Amps, to support more powerful external USB devices.
The Raspberry Pi 3's four built-in USB ports provide enough connectivity for a mouse, keyboard, or anything else that you feel the RPi needs, but if you want to add even more you can still use a USB hub. Keep in mind, it is recommended that you use a powered hub so as not to overtax the on-board voltage regulator. Powering the Raspberry Pi 3 is easy, just plug any USB power supply into the micro-USB port. There's no power button so the Pi will begin to boot as soon as power is applied, to turn it off, simply shut down the Pi 3, then remove power. The four built-in USB ports can even output up to 1.2A enabling you to connect more power hungry USB devices (This does require a 2Amp micro USB Power Supply).
On top of all that, the low-level peripherals on the Pi make it great for hardware hacking. The 0.1" spaced 40-pin GPIO header on the Pi gives you access to 27 GPIO, UART, I2C, SPI as well as 3.3 and 5V sources. Each pin on the GPIO header is identical to its predecessor the Model B+.
Note: We are still waiting on the status on how this board may be export restricted due to certain qualities it possesses. We may just need to verify a small amount of information before processing your order and hopefully nothing beyond that. Please keep this in mind before placing your order. Our Export Compliancepage is a great resource in case you have any questions.
Note: You will need the latest version of NOOBS for the Raspberry Pi 3. If this action is not completed your Pi will get stuck on a rainbow square boot screen. You can find the latest version of NOOBS here!
Dimensions: 85mm x 56mm x 17mm
Features:
Broadcom BCM2837 64bit ARM Cortex-A53 Quad Core Processor SoC running @ 1.2GHz
1 GB RAM
4 x USB2.0 Ports with up to 1.2A output
Expanded 40-pin GPIO Header
Video/Audio Out via 4-pole 3.5mm connector, HDMI, CSI camera, or Raw LCD (DSI)
Storage: microSD
10/100 Ethernet (RJ45)
BCM43143 WiFi on board
Bluetooth Low Energy (BLE) on board
Low-Level Peripherals:

27 x GPIO
UART
I2C bus
SPI bus with two chip selects
+3.3V
+5V
Ground

Power Requirements: 5V @ 2.4 A via microUSB power source
Supports Raspbian, Windows 10 IoT Core, OpenELEC, OSMC, Pidora, Arch Linux, RISC OS and More!
Documents:
Comentarios
Escribir Comentario
OpenHacks
(19/09/2016 - 10:46)
Hola Ramón, si abonas mediante transferencia bancaria tenes un 3% de descuento. Saludos!
Ramon
(17/09/2016 - 15:58)
Hola, necesito 8 para hacer un Cluster, que descuento me podrían hacer?
OpenHacks
(05/09/2016 - 16:56)
Hola Emiliano, hacemos envíos por OCA o Correo Argentino, en diferentes modalidades. Saludos!
Emiliano
(02/09/2016 - 18:47)
Buenas tardes, hacen envíos a Santa Fe?
OpenHacks
(09/08/2016 - 14:24)
Hola Matías, así es, el Wifi y BT están incorporados en la placa. Saludos!
Matias
(09/08/2016 - 10:52)
Buenos dias, la Rasperry 3 viene con Wifi y BT incorporado en la placa ? Saludos !!
OpenHacks
(22/06/2016 - 17:36)
Hola Javier, tenemos stock. Hacemos factura A o B, y el importe incluye IVA. Saludos!
Javier
(21/06/2016 - 15:22)
Hola, Quería saber si tienen stock o qué plazo de entrega manejan. Hacen factura A ? El importe incluye iva ?
OpenHacks
(23/05/2016 - 14:57)
Hola, el modelo de gabinete es el de RPi B+, por ej: https://www.openhacks.com/page/productos/id/950/title/Raspberry-Pi---Model-B%2B-Enclosure-%28Black%29 . Saludos!
chuley
(22/05/2016 - 12:49)
que caja plastica deberia comprar para este modelo de rasp ? gracias
OpenHacks
(09/05/2016 - 14:20)
Hola Alejandro, esta fuente es adecuada: https://www.openhacks.com/page/productos/id/819/title/Fuente-5V-2A-micro-USB . De momento no tenemos stock, te avisaremos cuando ingrese. Saludos!
alejandro varela
(06/05/2016 - 09:28)
hola! quería saber si tienen la fuente tambien.