Productos
Color LCD Shield SHD-CLS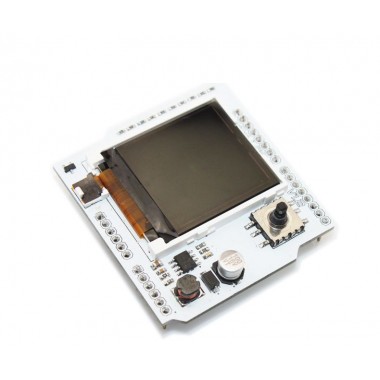 Shield display LCD a color, con Joystick de 4 direcciones
COD: EF02019
Peso: 0.040 Kg
Disponibilidad: En Stock

ARS 2653.00
El producto no está disponible para la venta en este momento
Características
This shield just uses the Philips PCF8833 controller, based on a good display Nokia 6100 LCD Panel. Backlight to PWM(D10), control the button to 4 directions Joystick w/ Switch(A0-A4), more key and easily to operate.
The Color LCD Shield,provides an easy method of connecting the popular Nokia 6100 LCD to your Arduino. The board comes as shown with the 128x128 mini color LCD, as well as a backlight driver circuit (boosts to 7V) controled by PWM.
The Nokia 6100 LCD is controlled through a 9-bit SPI interface. The control pins of the LCD are connected to the hardware SPI pins of the Arduino (D13 -SCK, D11 - DIO), the CS pin is tied to D9 and the reset pin is connected to D8. Voltage from the '5V' pin of the Arduino is boosted to 7V to power the LCD backlight.

Please visit our wiki page for more info about this product. It will be appreciated if you can help us improve the documents, add more demo code or tutorials.