Productos
Serial to USB Adapter for NRF24L01+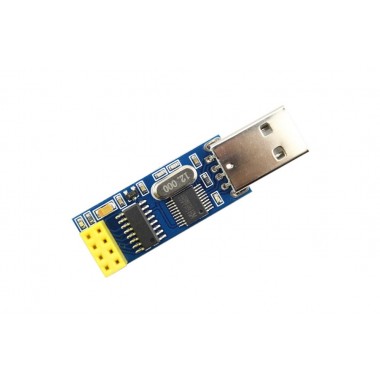 Adaptador Serie a USB para módulo NRF24L01+. No incluye el módulo NRF24L01+, el que debe adquirirse por separado.
COD: ECRF01056W
Peso: 0.006 Kg
Disponibilidad: En Stock

ARS 514.00
El producto no está disponible para la venta en este momento
Características
This is a Serial to USB adapter for NRF24L01+ Module. It can apply in Wireless remote control, data transmission, Wireless meter reading system, Wireless detection system, Wireless Data Acquisition System, VOIP system, Access Control System, Wireless tag, a wireless 232, 422/485 wireless data communication. Command is simple and reliable, without any set up to communicate after receipt of the goods. With this module be used in wireless serial communication allows the transmission distance farther (100 ~ 1100m, depending on the use of wireless module power), far exceeding the Bluetooth serial port (10m) of transmission distance.
Features
Support WINDOWS 98 / ME / 2000 / XP / Server 2003 / VISTA / Server 2008 / Win7 / WIN8 32 bit / 64bit.
USB wireless serial transmission modules that supporting AT commands to configure the system
Adopt the stable CH340T
Multi-frequency: 125 frequency, meet the multi-point communications and FM communication needs.
Two LED lights on the module are the power indicator (red), nRF24L01 status indicator (blue / green).
Built-in watchdog Anti-driver program, stable operation in harsh environments in industrial control applications.
Package list
Serial to USB Adapter for NRF24L01+ Module x 1
Comentarios
Escribir Comentario
OpenHacks
(23/03/2016 - 15:29)
Luis, acá encontré un poco mas de información: http://www.ebay.com/itm/USB-Wireless-Serial-Data-Transmission-Module-Seril-to-USB-for-NRF24L01-Module-/281638608991?_ul=AR . El link del producto del proveedor es http://rlx.sk/en/wireless-solution/4907-serial-to-usb-adapter-for-nrf24l01-er-crf01056w.html . Saludos!
Luis Lescano
(22/03/2016 - 11:11)
Ok, entonces necesitaria le traslades la consulta al proveedor o me pases la info de contacto. Porque en internet, traduciendo una pagina en turco... el unico comando que pude conseguir es para setearle la velocidad. Por ahora no lo puedo utilizar.
OpenHacks
(22/03/2016 - 10:25)
Hola Luis, la información que tenemos es la que está publicada en la descripción del producto. Lamentablemente el proveedor no dio mas detalles sobre el mismo. Saludos!
Luis Lescano
(21/03/2016 - 20:23)
Podrian agregar algun link con la informacion de este adaptador? Gracias.