Productos
Bluetooth Car Kit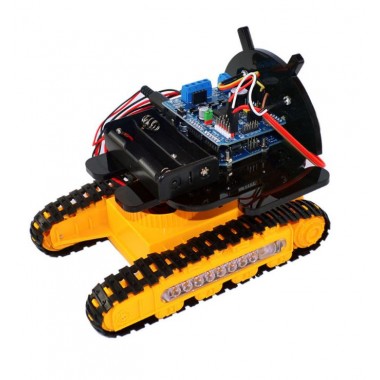 Auto compatible con Arduino, para manejar por Bluetooth!
COD: KYRT0005
Peso: 0.585 Kg
Disponibilidad: Sin Stock

ARS 5757.00
El producto no está disponible para la venta en este momento
Características
UNO Arduino is the latest Arduino community in September 2010 has just launched the latest Arduino. Used to replace the old Duemilonve. There is no change in function, which is to redesign the packaging and printing circuit.. As well as the use of Atmega8U2 to replace the original FT232, so that the UNO Windows Arduino and Linux no need to drive the program. The birth of UNO makes Arduino more easy to use.. Main technical parameters:
1.14 digital input / output ports TX, RX, D2~D13,
2.8 analog input ports A0~A7
3.1 TTL level serial port RX/TX
4.6 PWM ports, D3, D5, D6, D9, D10, D11
5 Atmega328P Atmel and ATMEGA8U2 microcontroller
6 working frequency of 16MHz
7 support USB download and power supply
8 support external 7-12V DC power supply
9 support 9V battery power supply
10 support ISP Download
Three 11 power supply modes: USB, VIN, external 5V input
Look at L298 SHIELD ARDUINO
With 1 L298P on board and motor drive chip, direct reference to digital IO motherboard, without the cumbersome wiring
2 board buzzer, can set the reverse alarm bell.
3 convenient motor interface, can be divided into two motor output
4 two-way Bluetooth interface, can be directly inserted, without wiring
5 leads to the D2, D3, D5, D6, D7, D9, D13 seven no occupied digital interface
6 lead to the A0-A5 six simulation interface
7 forward backward turning to have the indicator light
Other configuration
1 tank tracked vehicle body
Car chassis size: 200mmX140mmX60mm
Material: shell is hard plastic, leather belt
Features: great torque, strong climbing ability, not easy to skid
2 power supply system
With 2 high capacity lithium battery (1500MAH), the basic need not worry about charging problems, unless the continuous play for one or two hours. Car with protective circuit charger.
3 Bluetooth
Bluetooth chip using CSR 06 Bluetooth chip, blue control distance: 10 meters without difficulty. All kinds of turning moves can instantaneous complete, more complex action slowly dig it. Although the appearance is fleeting, but exquisite workmanship, durable, beautiful and convenient enough DIY..
Bluetooth crawler shipping list:
ARDUINO tracked vehicle body
UNO ARDUINO control board one
ARDUINO 298 expansion board one
Bluetooth module one
18650 lithium battery two (1500MA)
18650 battery box one
18650 charger one
3W highlight LED module one
7 color LED lamp two
DuPont line 20
3MM organic glass plate
Column 4 screws 10, nut 10
USB line one
Rhododendron aureum