Productos
Bluetooth Car Kit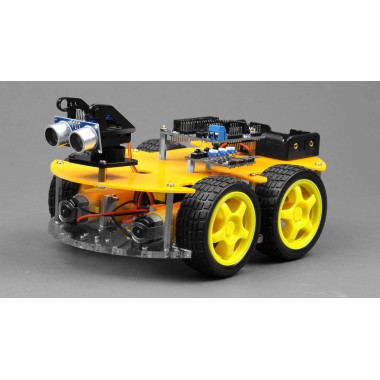 Kit para construir un Robot móvil multifuncional compatible con Arduino , capaz de seguir líneas y evadir obstáculos, entre otras interesantes funciones. Se controla mediante Bluetooth a través de control remoto, o bien desde el mismo celular, mediante una aplicación Android. Ideal para aficionados a la Róbotica y para propósitos Educativos.
COD: KYRT0009
Peso: 1.175 Kg
Disponibilidad: Sin Stock

ARS 7069.00
El producto no está disponible para la venta en este momento
Características
Product description:
The multifunction bluetooth controlled robot car is an upgraded version of auto-walk car, which added the part of bluetooth control. The bluetooth controlled robot car is a microcontroller leaning application development system, based on Arduino AtMega-328p. It has the function of hunt, obstacle avoidance and remote control. And also can expand external modules to increasing the car's function.

The Arduino Bluetooth Smart Car has the function of Complete tracking, obstacle avoidance, infrared remote control and Bluetooth remote control. It is a MCU study and application development system base on Atmege328.The greatest feature is that you can control it with Mobile phone bluetooth of Android system. That's may have a lot of fun.To make it, you need a number of kits which contain a number of interesting programs, and expand external circuit module to implement functions.
So now let's begin to build this smart car.


Major Parameter:
Power apply:6V-9V;
Reduction gear ratio:1:48;
Selection L298N module driver motor,segregate form CPU.
Three tracking modules,detection white and black line.Available with fall prevention control.
Infrared remote communication module,composition of remote control system of smart car.
Bluetooth wireless module,can match with mobile phone to control smart car.
Input voltage 7V-12V,can connect to different kinds of sensor.The more sensors ,the more functions.
Pakcage included:
4 x Geared motor.
1 x Beeduino 328.
4 x Tyre.
4 x Motor fixing.
2 x Acrylic glass plate(100 x 213 x 5mm).
1 x L298N motor driver.
1 x Sensor board V5.
1 x Holder kit.
1 x Steering gear.
1 x Ultrasonic module.
3 x Line infrared module.
1 x Infrared receiver module.
1 x MCU remote control.
1 x 18650 battery holder.
1 x Bluetooth adapter.
1 x USB cable(0.5m).
30 x Dupont line.
15 x Pillars (6 x 35mm / 3 x 20mm / 6 x 6mm).
All necessary screw and nut.
Specification:
General

| | |
| --- | --- |
| Type | RT0009 Bluetooth Multi-Function Car Kit |
| Suitable for | Arduino |
Weight and Size

| | |
| --- | --- |
| Product Weight | 1.000 kg |
| Package Weight | 1.175 kg |
| Package Size(L x W x H) | 25.80 x 18.00 x 15.20 cm / 10.14 x 7.07 x 5.97 inches |