Productos
BITalino Board Kit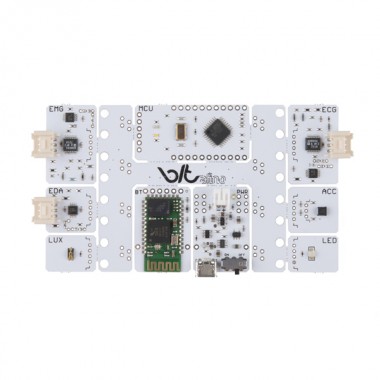 Placa de adquisición de datos biométricos, que te permitirá crear proyectos usando sensores fisiológicos y otras herramientas.
COD: S01BIT0001
Peso: 0.050 Kg
Disponibilidad: Sin Stock

ARS 88210.00
El producto no está disponible para la venta en este momento
Características
Description: Introducing the BITalino, a (comparatively) low cost biomedical data acquisition dev board that allows you to create projects using physiological sensors and tools. Each BITalino is presented in a "ProtoSnap style" making it able to be programmed as a whole board or snapped apart for use in future projects. This dev board also has no shortage of programming APIs which include Python, Java, Android, and more.
The BITalino is equipped with nine removable "blocks" which can be used straight out-of-the-box and include an MCU, Bluetooth, Power, EMG, EDA, ECG, Accelerometer, LED, and Light Sensor! At the heart of this dev board is the tried and true ATMega328 micro-controller that can be configured with a sampling rate up to 1000Hz and capable of supporting six analog inputs (four at 10-bit, two at 6-bit), four digital inputs, and four digital outputs. With the attached BC417 Bluetooth module, triaxial MEMS accelerometer, and physiological sensor inputs will find it difficult to run out of ideas for projects.
In the Documents section below you will will find a link for OpenSignals, a new software that empowers your BITalino. OpenSignals allows you to playback your previously recorded sessions and zoom in and out of specific periods, plug in architecture available for future optional add-ons to help you analyze your signals, customize transfer function definitions, and more.
Note: The BITalino only communicates via Bluetooth with your computer.
Included on the Board:
Micro-Controller Block
Power Block
Electromyography Block (EMG)
Electrodermal Activity Block (EDA)
Electrocardiogram Block (ECG)
Lux Block
Accelerometer Block
Bluetooth Block
LED Block
Kit Includes:
1x BITalino Board
1x 3-lead accessory (for EMG / ECG)
1x 2-lead accessory (for EDA)
5x Pre-gelled electrodes
1x Battery 3.7V 420 mAh
Documents:
Comentarios
Escribir Comentario
OpenHacks
(18/04/2016 - 16:53)
Hola Esteban, la placa viene troquelada para poder separar fácilmente cada módulo. Saludos!
EstebanAbel
(17/04/2016 - 20:20)
Hola, tienen el modelo de placas que son de material flexibles, es decir la placa PCB se deforma y viene cada placa por separado. ????