Productos
W5100 Ethernet Module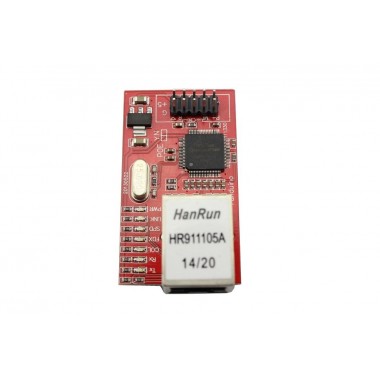 Módulo Ethernet basado en el chip W5100, para brindar Internet a tus desarrollos. Incluye regulador de tensión para permitir alimentarlo directamente con 5V.
COD: ECIA51002C
Peso: 0.013 Kg
Disponibilidad: En Stock

ARS 435.00
El producto no está disponible para la venta en este momento
Características
W5100 is a multifunctional Monolithic network interface chip, internal integrate a 10/100 Ethernet controller , it apply to a embedded system which is High-Integrate, high-stability, high-performance but low-cost. By using it, we can complete the internet linking without operating system supporting. W5100 compatible with IEEE802.3 10BASE-T and 802.3u100BASE-TX. W5100 internal integrate TCP/IP,MAC,PHY with full hardware control. We just need to have some simple socket programming rather than considering the control of the Ethernet when we use the W5100.
Features
Support Hardwired TCP/IP Protocols : TCP, UDP, ICMP, IPv4 ARP, IGMP, PPPoE, Ethernet
10BaseT/100BaseTX Ethernet PHY embedded
Support Auto Negotiation (Full-duplex and half duplex)
Support Auto MDI/MDIX
Support ADSL connection (with support PPPoE Protocol with PAP/CHAP Authentication mode)
Supports 4 independent sockets simultaneously
Not support IP Fragmentation
Internal 16Kbytes Memory for Tx/Rx Buffers
0.18 µm CMOS technology
5V I/O signal tolerance
Small 80 Pin LQFP Package
Multi-function LED outputs (TX, RX, Full/Half duplex, Collision, Link, Speed)
Support Serial Peripheral Interface(SPI MODE 0, 3)
Package list