Productos
12mm Diameter Slider Platform - SBR12UU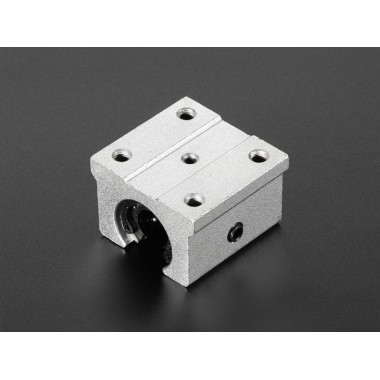 Plataforma deslizante de bolas recirculantes cilíndrica ranurada de 12mm de diámetro, para riel de barra cilíndrica (no incluido). Ideal para CNCs.
COD: D001183
Peso: 0.087 Kg
Disponibilidad: Sin Stock

ARS 3329.00
El producto no está disponible para la venta en este momento
Características
Make your robot or CNC move on our Aluminum Slide Rail with this sliding ball-bearing platform. The slider is 39mm x 36mm and has four holes tapped for M5 machine screws so you can attach pretty much anything you want. This slider has a plastic interior with small metal ball bearings to make it slide easily and smoothly.

The platform won't come off the railing but it does rotate a bit around so for best stability, use two support rails. Often times, CNC projects will have two of these on opposite sides of the machine body to support a larger platform. You can also have some other support mechanism of your own devising.

Comes as a single bearing platform. You'll want to pick up at least one 12mm railing as well. We have a bunch of bearings, supports and platforms that you may want to use with an 8mm based rail system so check out our CNC category
Load-bearing Mechanism: Hydrostatic Bearing
Bearing Shell Material: Plastic
Dimensions:
39mm x 36mm x 27mm / 1.5" x 1.4" x 1"
Width of Top: 40mm / 1.6"
Inside Diameter: 12mm / 0.5"
Outer Diameter: 30mm / 1.2"
Mounting Hole Diameter: 4mm / 0.16"
Mounting Hole Distance: 28mm x 26mm / 1.10" x 1.02"
Weight: 87.4g
Comentarios
Escribir Comentario
OpenHacks
(01/02/2016 - 15:04)
Hola Juan, podes ver la plataforma en acción en este video (a partir del minuto 4) https://www.youtube.com/watch?v=MLK9wk46msM . Saludos!
juan brunero
(29/01/2016 - 15:50)
hola, si el eje en que esta rota la plataforma también rota o si se fija a una pared el eje puede rotar fácilmente ademas de deslizarse