Productos
15mm Slide Railing Platform - Larger Size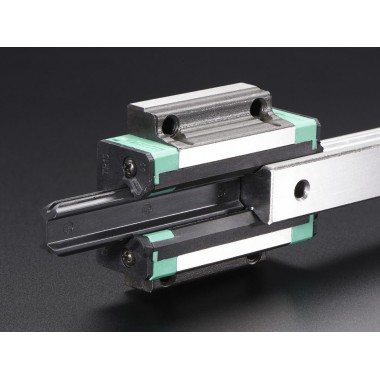 Plataforma deslizante de bolas recirculantes para riel de 15mm de ancho (no incluido), ideal para CNCs.
COD: D001866
Peso: 0.194 Kg
Disponibilidad: Sin Stock

ARS 8483.00
El producto no está disponible para la venta en este momento
Características
DESCRIPTION
Make your robot or CNC move on our 15mm Supported Slide Rail with this sliding ball-bearing platform. This slider platform is 60mm x 47mm and has four holes on the outside tapped for M4 machine screws so you can attach pretty much anything you want. This slider has a plastic interior with circulating ball bearings to make it slide smoothly along the railing.

The platform won't come off the railing once attached. It's also fairly well supported due to the T-shaped rail, so for ~5 lb loads you can probably get away with just one rail. Often times, CNC projects will have two of these on opposite sides of the machine body to support a larger platform. You can also have some other support mechanism of your own devising.

Comes as a single bearing platform. You'll want to pick up at least one 15mm railing as well.We have a bunch of bearings, supports and platforms that you may want to use so check out our CNC category

Do not try to attach onto the railing without the plastic insert! The insert keeps the ball bearings in while you fit the slider on. See the photos for more details on how to do this! If you lose a ball bearing or two, it'll still work but its best to keep them all in!
Please note: Depending on availability, these will either have black or green on the outside. Both work just the same and we unfortunately can't control which color you'll receive.
TECHNICAL DETAILS
Dimensions:
60mm x 47mm / 2.3" x 1.9"
Inner Diameter: 15mm / 0.6"
Weight: 194g
Screw holes are 34mm x 26mm apart / 1.3" x 1"
Comentarios
Escribir Comentario
OpenHacks
(24/11/2015 - 20:04)
Estimado Agustín, el precio es solo por la plataforma deslizante, sin el riel. Disponemos de rieles de 500mm para estas plataformas: https://www.openhacks.com/page/productos/id/1580/title/Supported-Slide-Rail---15mm-wide---500mm-long
Agustin Dos Santos
(24/11/2015 - 19:31)
Buenas tardes. el precio es por el patin o el patin mas el riel? que tan largo es el riel?