Productos
OV7670 Camera (With the AL422 FIFO)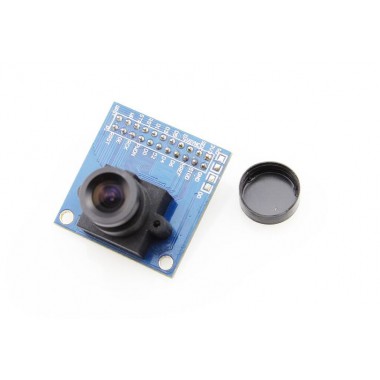 Cámara 640 x 480 ("VGA") para STM32 o Arduino.
COD: ESPS76701S
Peso: 0.015 Kg
Disponibilidad: En Stock

ARS 2991.00
El producto no está disponible para la venta en este momento
Características
The OV7670 is a low cost image sensor + DSP that can operate at a maximum of 30 fps and 640 x 480 ("VGA") resolutions, equivalent to 0.3 Megapixels. The captured image can be pre-processed by the DSP before sending it out. This preprocessing can be configured via the Serial Camera Control Bus (SCCB). It's very useful for Electronic lovers, you can use the camera with
STM32
or even with
Arduino.
Features:
380KB high-capacity FIFO AL422B, very suitable for slow MCU to acquisit image data directly through the I/O
24MHZ active crystal oscillator
OV7670 2.8 V voltage stabilization LDO
Single work power 3.3 V (+ / -0.1 V), working temperature from 0 degrees - 50 degrees
The camera is all the glass lenses, lens (including seat) is magnesium alloy material, focal length of the lens is 3.6 millimeters 650nm bands
Module size is 3 * 3 centimeters (+ / - 0.5 mm)
Module pin is standard interface 2X10 2.54 mm, and convenient for cable to connect directly with microcontroller I/O for collecting images.
Spicification:
Photographic array : 640X480
IO voltage : 2.5 V to 3.0 V (LDO give 1.8 V power)
Power consumption working : 60 mw / 15fps VGA YUV
Dormancy: 20uA
Temperature : from - 30°to 70°
Stable working temperature : from 0 to 50/li>
Output format (8 bit) : RawRGB, RGB(GRB4: 2:2, RGB565/555/444), YUV(4:2:2) and YCbCr(4:2:2)
Optical size : 1/6"
View Angle : 25 degrees
Max frame rate : 30fps VGA
Sensitivity : 1.3 V / (Lux - SEC)
SNR : 46 dB
Dynamic range : 52 dB
Browse mode : by line
Electronic exposure : 1 line to 510 line
Pixel area : 3.6 μm x 3.6 μm
Dark current : 12 mV/s at 60
Well capacity : 17Ke
External links