Productos
USB interface Programming for FEETECH Programmable Servo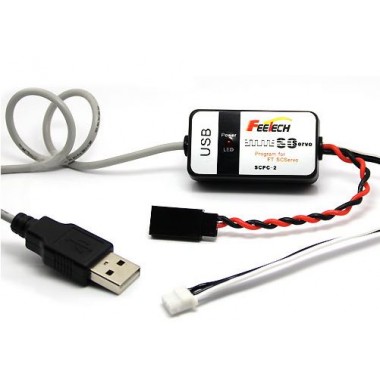 Interfaz USB para programar servos FT Smart
COD: FTFESCPC2
Peso: 0.050 Kg
Disponibilidad: En Stock

ARS 2629.00
El producto no está disponible para la venta en este momento
Características
Introduction
Using this USB interface to program FT programmable servo and to test "all brand"servo.
Please read the manual (Click here to download)before useing the software and your new SCPC-2.
This SCPC-2 will allow you to easily check any servo brand's servo performance by using servo test functions and set most of the programmable parameters of all FT digital servo types as noted in the following statement.
Required Optional Parts (Sold Separately)
- "Y" cable or USB extension cable
-One 4.8V or 6V "receiver" battery*.
*The SCPC-2 requires an external power source in order to test/program a servo.
WARNING: Be sure to use a fully-charged battery to prevent any data loss or damage during the programming process
Basic Set–Up Instructions
1. Download the SCPC-2 program software(ServoPC) from www.feetechrc.com. The SCPC-2 software is compatible with Windows XP, W7 and VISTA.
2. Plug the SCPC-2's USB interface into your PC.
3. Start the ServoPC software from your PC.
4. Plug an external power source pack (4.8V or 6V battery) into the SCPC-2 '-+-' slot.
5. A servo must be plugged into slot "S" in order to program or to test. The SCPC-2 supports only program one servo at a time.