Productos
14g Mini Servo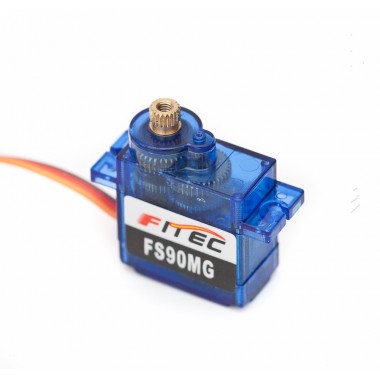 Servo con reductor de engranajes metálicos, torque 1.5kgcm.
COD: FTFS90MG
Peso: 0.014 Kg
Disponibilidad: Sin Stock

ARS 1505.00
El producto no está disponible para la venta en este momento
Características
Description:
Feetech FS90MGR Metal 360 Rotation Servo 14g 1.8kg for Robot
1.9g servo metal gear
2.Best choice for RC aircplane,robot arduino
3.Accessories attached
This servo is great for scanning type sensors, tiny robots, and more! Each servo comes with a variety of horns. The metal gears give this servo even more power and durability!
These servos use a standard PWM signal to control them. The Arduino does a great job of controlling PWM Servos, making it ideal for a variety of robotic projects. But sometimes powering these servos can be problematic. Powering servos from the Arduino's 5v regulator leads to underpowered servos, limited by both voltage and current. With other sensor systems, connecting a servo to an external power supply requires multiple cables or boards, defeating the purpose of a sensor shield.
Feetech servo FS90MG SPEC
1. Apply Environmental Conditon
No.
Feetech FS90MG
Specification
1.1
Storage Temperature Range
-20°C~70°C
1.2
Operating Temperature Range
-10°C~60°C
2.Standard Test Environment
No.
Item
Specification
2.1
Temperature Range
-10°C~60°C
2.2
Humidity Range
65%±10%
3. Mechanical Specification
No.
Item
Specification
3.1
Size
23.2*12.5*22mm
3.2
Weight
14g
3.3
Gear type
5 Metal Gear
3.4
Limit angle
180°±5°
3.5
Bearing
DUAL BB
3.6
Horn gear spline
3.7
Horn type
Metal
3.8
Case
Engineering plastics(Polyamide)
3.9
Connector wire
FP: 240mm±5mm JR: 300mm±5mm
3.10
Motor
DC motor
3.11
Splash water resistance
No
4.Electrical Specification
No.
Operat voltage
4.8V
6.0V
4.2
No load speed
0.12sec/60°
0.10sec/60°
4.4
Peak stall torque
1.5.kgcm
1.8kgcm
5.Control Specification
No.
Item
Specification
5.1
Command signal
Pulse width modification
5.2
Amplifier type
Analog controller
5.3
Pulse width range
900~2100us
5.4
Neutral position
1500usec
5.5
Running degree
90°±3°(when 1000~2000usec)
5.6
Dead band width
8 usec
5.7
Rotating direction
Counterclockwise (when 1000~2000usec)
Specification:
Dimensions:23.2 × 12.5 × 22 mm
Weight:14 g
Operating Speed :0.12sec/60degree (4.8V)0.10sec/60degree (6V)
Small Torque: 1.5kg.cm/20.87oz.in(4.8V)1.8kg.cm/25.04oz.in(6V)
Operating Voltage :4.8V~6V
Control System :Analog
Direction :CCW
Operating Angle :360degree
Required Pulse :900us-2100us
Bearing Type :None
Gear Type :Metal
Motor Type :Metal
Connector Wire Length :20 cm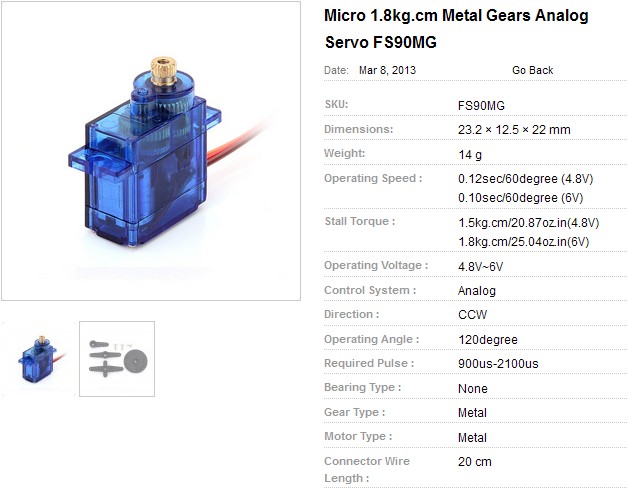 http://www.feetechrc.com/product/analog-servo/micro-1-8kg-cm-metal-gears-analog-servo-fs90mg/