Productos
Fixed dual-voltage (5.0V and 3.3V) power supply board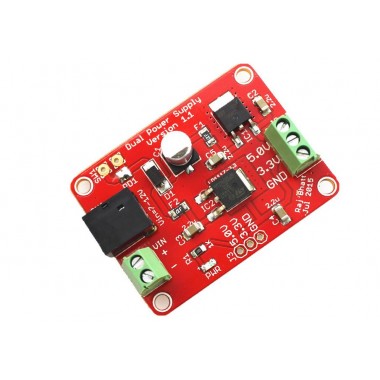 Fuente de alimentación dual (5.0V y 3.3V). Tensión de alimentación desde 7 a 12V. Corriente máxima de salida 500mA.
COD: ECDE50331C
Peso: 0.011 Kg
Disponibilidad: En Stock

ARS 609.00
El producto no está disponible para la venta en este momento
Características
All electronics projects require power supply. This is a dual-voltage power supply board that provides fixed 3.3V and 5.0V outputs from an unregulated DC input ranging from 7-12V. With its small size (1.8" X 1.4"), it can be easily enclosed inside a project box along with your project circuit. It uses LM78M05 and LD1117-3.3V fixed voltage regulator chips that are both capable to deliver 500mA of output current. The unregulated DC input is provided through a 2-pin terminal block or 2.1mm DC barrel. The fixed output voltages are accessible through a 3-pin terminal block.
Features
Fixed +5.0V and +3.3V output
Maximum output current 500 mA for 5.0V and 3.3V separately
On-board PTC Fuse (500 mA) for both regulators chips
Through-hole pads onboard to connect an external ON/OFF switch
500mA output capability for both 3.3V and 5.0V
Package list
Fixed dual-voltage (5.0V and 3.3V) power supply board x1