Productos
HDMI Interface 5 Inch 800x480 TFT Display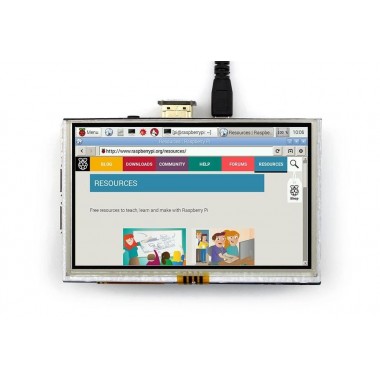 Display Táctil TFT de 5" HDMI, diseñado para Raspberry Pi.
COD: ERPA05010R
Peso: 0.200 Kg
Disponibilidad: Sin Stock

ARS 18306.00
El producto no está disponible para la venta en este momento
Características
This 5 inch TFT Display with Touch Screen is a mini panel-mountable HDMI monitor. So small and simple, but you can use this display with any computer that has HDMI output, and the shape makes it easy to attach to a electronic product. Although the 800x480 common HDMI display is made for Raspberry Pi, we can use it other where not only for Raspberry Pi.
Features
A good solution for those seeking for a bigger resolution display
Good touch response
Large viewing angle
Fast response time
Not only for Raspberry Pi
Not only for mini-PCs, it can work as a computer monitor
With detail user guide and image
Specifications
5 inch TFT Resistive touch screen display, 800x480 Resolution
HDMI input
Usb touch and power, 5V@1A
Lcd driver IC: ILI9486L
Refresh rate:60HZ
Lcd Size :143mm*83mm
Package list
5 inch Touch LCD Display x1
HDMI connector x1
Touch pen x1
Wiki & External links
Comentarios
Escribir Comentario
OpenHacks
(22/07/2016 - 11:34)
Hola Gabriel, aún no hemos tenido oportunidad de utilizarlo con RPi3 y Windows. Te recomendamos que busques esa información en foros sobre el tema. Saludos!
Gabriel
(21/07/2016 - 09:20)
se puede usar en una Rberry 3 con windows 10 IoT? Funciona tanto el display como el touch?