Productos
Bluno Beetle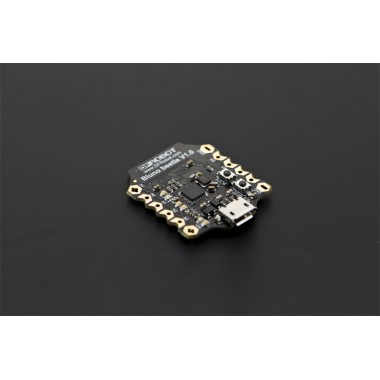 Pequeña placa que combina el ATmega328@16MHz (mismo que Arduino UNO) con BLE (BT 4.0). Soporta programación inalámbrica, ideal para proyectos "wearables".
COD: DFR0339
Peso: 0.005 Kg
Disponibilidad: En Stock

ARS 931.00
El producto no está disponible para la venta en este momento
Características
Our "Beetle" series derives its core notion from minimalism without compromising functionality. Beetle aims to solve problems of low-cost controller, ease-of-using properly, and to provide a low cost solution for disposable projects, such as DIY projects, workshops, gift projects, E-Textiles and educational. For students and makers who can not afford too much on hardware purchasing, Beetle can be a great solution for them.
This Bluno Beetle is another milestone in the Beetle line, which makes DIY users have more options in the project design. It is fully compatible with
Bluno
in instructions and procedures. Support Bluetooth HID and ibeacon modes.
It not only supports USB programming, but also wireless programming method. With the V shaped gilded I/O interface, it is convenient to screw conductor wire on it, which could a good choice in the wearable market.
ATmega328@16MHz
Bluetooth Low Energy (BT 4.0)
Micro USB port
Super Compact Size
Support Bluetooth HID and ibeacon
Comaptible with all DFRobot Bluno Series
Support Wireless Programming
Bluetooth Chip: CC2540
Sensitivity: -93dBm
Working Temperature:-10 ℃ ~ +85 ℃
Maximun Distance:50m(Open field)
Microcontroller: ATmega328
Clock frequency: 16 MHz
Working voltage: 5V DC
Digital Pin x6
Analog Pin x6
PWM Output x2
UART interface x1
I2C interface x1
Micro USB interface x1
Power port x2
Size:28.8mm X 33.1mm
Weight:10g
Comentarios
Escribir Comentario
OpenHacks
(26/01/2016 - 10:44)
Hola Bruno, la Bluno Beetle estará en aproximadamente 45 días. Te avisaremos ni bien ingrese. Saludos!
Bruno
(25/01/2016 - 14:58)
Hola, me dirían en cuanto tiempo se podría conseguir? gracias
OpenHacks
(23/11/2015 - 16:05)
Hola Fernando, haremos un pedido en breve. En aproximadamente 45 días tendremos nuevamente. Saludos!
Fernando
(20/11/2015 - 11:34)
Cuando te van a llegar mas?? Saludos