Productos
40mm Stepper Motor for CNC Machine or 3D Printer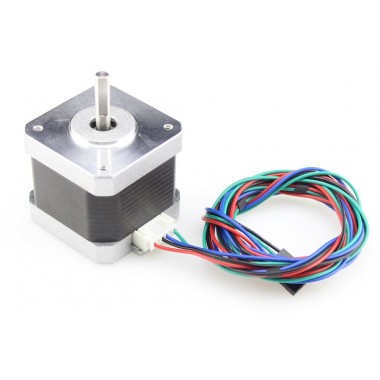 Motor paso a paso de dos fases y paso de 1.8º, ideal para máquinas CNC o impresoras 3D.
COD: EP3D0125SM40
Peso: 0.291 Kg
Disponibilidad: En Stock

ARS 6689.00
El producto no está disponible para la venta en este momento
Características
This stepping motor was two phase mixing type.1m wire, one connect electrical machine, on the other end has variety optional ports; heat shrink tubing effect to prevent the wire tangled up.D-shaped axle with 22mm, electrical machine with high-torque, high-speed, low noise.
Features
Drive mode: Chopping wave constant current drive
Exciting mode: Two-phase 4-wire. It is available for rotation of forward and reverse
Swerve: The order of power is AB-BC-CD-DA, from shaft end to see C.W
Rated current (one-phase): 1.3A DC
Rated voltage: 2.4V
Stepping angle: 1.8°
Insulation grade: B grade
Operating Conditions: Environment Temperature: -20~50ºC; RH: 90%MAX
Mounting Position: Axis horizontal or vertical installation
Direct-current winding resistance (25ºC): 1.6Ω±10%
Wnding inductance: 3.2mH±20%
Cogging torque: 18mN.m REF
Holding torque: ≥360mN.m(I=1.3A)
Max. no-load starting frequency: ≥1400pps
Max. no-load running Frequenc: ≥8000pps
Temperature rise: <80K
Step Angle Accuracy: 1.8°± 5%
Rotary inertia: 57g.cm2
Motor Weight: 0.28Kg/PC REF
Insulation resistance: Cold insulation resistance should be more than 100MΩ (between the Motor stator core and Terminal)
Dielectric strength: The space between the Motor stator core and Terminal should be able to withstand AC600V/1s without breaking down. Leakage current is less than 1mA.
Size(L*W*H): Approx. 42 x 42 x 40mm / 1.65 x 1.65 x 1.57 inch
Comentarios
Escribir Comentario
OpenHacks
(02/12/2015 - 14:17)
Hola Agustín, no hay problema por las consultas. De momento no tenemos a la venta el cable con la ficha, quizás en algún local de electrónica puedas conseguir. Saludos!
Agustin
(02/12/2015 - 12:59)
Hola, disculpen la molestia. Quería saber si venden unicamente el cable con esa " ficha" porque se me desoldaron y necesitaría uno. Muchas gracias y disculpen tantas preguntas. Saludos