Productos
434Mhz Wireless Serial Transceiver Module - 40 Meters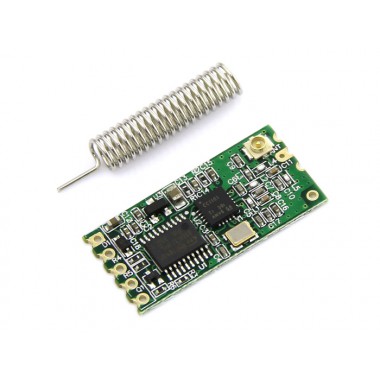 Módulo Transceptor de 434Mhz (modulación por desplazamiento de frecuencia)
COD: SE800131001
Peso: 0.005 Kg
Disponibilidad: Sin Stock

ARS 2091.00
El producto no está disponible para la venta en este momento
Características
Serial transceiver module is a low cost, high performance transparent FSK transceiver with operating at 434 MHz. It features small size, high output power, high sensitivity, long transmission distance and high communication data rate with auto set up for communication change and data receiving and transmission control. There is UART interface, it is easy to realize the wireless data transmission with only providing the UART data. It is flexible for the users to set the UART baud rate, frequency, output power, data rate, frequency deviation, receiving bandwidth etc parameters. It is your ideal choice for designing wireless data transmission products which can be widely used on wireless data transmission field.
The single module can not work, please get two or more of these modules. And please note that this module do not work with the 433Mhz Wireless Serial Transmitter Module - 1 Kilometer.
Features:
Wireless communication frequency band is 434M
Multiple types of serial port transparent transmission modes have respective features, and the mode is changed by command
User needn't program the modules, and four modes are only responsible for receiving and sending serial port data, and are convenient to use
Low current consumption; the idle current is 80μA, 3.5mA or 22mA, depending on the selected mode
The number of bytes sent to serial port of module unlimited to one time
All functions and parameters are changed by command, and can be saved in case of power failure
Specification:
Working frequency: 434Mhz
Supply voltage: 3.3V to 5VDC
Communication distance: 1m to 40m indoor
Serial baud rate: 1.2Kbps to 115.2Kbps (default 9.6Kbps)
Receiving sensitivity: -112dBm to -95dBm
Transmit power: -30dBm to 10dBm
Interface protocol: UART/TTL
Operating temperature: -40°C to +85°C
Dimensions: 27.8 x 14.4 x 4mm
Comentarios
Escribir Comentario
OpenHacks
(22/03/2016 - 10:10)
Hola Santiago, tenemos 4 en stock. Si estás en Rosario podes retirarlo personalmente. Cuando hagas la compra te enviaremos la dirección y horarios. Saludos!
Santiago
(21/03/2016 - 12:38)
Hola, buenas tardes, tienen stock de dos módulos de estos? Por dónde y en que horarios se pueden retirar? Gracias. Saludos.