Productos
MP-5 flat surfaced flammable gas sensor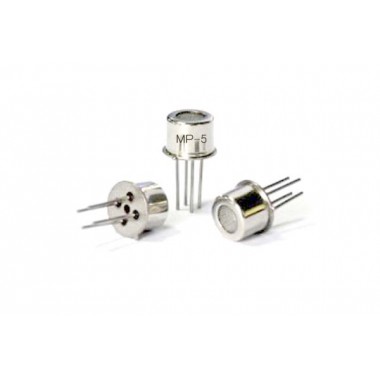 Sensor de gases inflamables CH4 (Metano), gas natural y GLP (Gas Licuado de Petróleo).
COD: WINMP5
Peso: 0.005 Kg
Disponibilidad: En Stock

ARS 682.00
El producto no está disponible para la venta en este momento
Características
Description
MP-5 gas sensor is for flammable gases. It adopts multilayer thick film manufacturing technology. The heater and metal oxide semiconductor material on the ceramic substrate of subminiature Al2O3 are fetched out by electrode down-lead, encapsulated in metal socket and cap. Conductivity of the sensor is affected by the concentration of target gas. The higher the concentration is, the higher conductivity of sensor gets. Users can adopt simple circuit to convert variation of conductivity into output signal corresponding to gas concentration.
Features
Lower consumption

Small size

Fast response and resume

Highest sensitivity

Excellent stability and long life

Easy circuit and big signal output

Excellent selectivity
Application
It is widely used in domestic gas leakage alarm, industrial flammable gas alarm and portable gas detector.
Model

MP-5

Type

Semiconductor flat surfaced gas sensor

Standard encapsulation

Metal

Target gas

CH4, Natural gas, LPG

Detection concentration

300-10000ppm(CH4, Natural gas, LPG)

Standard circuit

Loop voltage

Vc

≤24V DC

Heating voltage

VH

5.0V±0.1V AC or DC

Load resistance

RL

Adjustable

Standard features of sensor

Heating resistance

RH

95Ω±15Ω(Room Tem.)

Heating consumption

PH

≤300mW

Surface resistance

Rs

2KΩ-20KΩ(in 2000ppm propane)

Sensitivity

S

Rs(in air)/Rs(2000ppm propane)≥5

Concentration slope

α

≤0.6(R2000ppm/R500ppm propance)

Standard condition of test

Temperature, humidity

20℃±2℃;65%±5%RH

Standard testing circuit

Vc:5.0V±0.1V;

VH: 5.0V±0.1V

Warm-up time

More than 48 hours
.